Ariel Walk-in Tub has come to be used commonly for the safety and convenience of people that are elderly and mobility impaired.
Ariel providing various types of walk in tubs with small add on's to set their appliance apart from competitors.
The three types of walk-in bathtubs by the company Ariel Walk-in Tub will be discussed throughout this article.Ariel Bath has been providing the world with the best in toilets, vanities and bathtubs for over 25 years, which still includes more years to come. They have excellent customer service.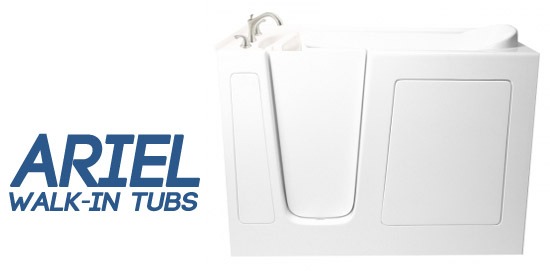 Various products of Ariel walk-in bathtubs range in dimension, facet choices, door or no door options, and so many other features, but of two choose colors of white or chrome. These walk in tubs can be broken into three sections Dual Series, Soaker Series and Air Series, a set of four numbers determines the design of the chosen.
There are six types of designs to choose from 2651, 3555, 3048, 3052, 3054, 3060 all of which can be found in all three series selections and they all fill up to 50 gallons of water.
Prices for these are a lot cheaper than for the other two, some are $1,799.99, $1,859.99, or 2,319.99 which are quite reasonable for such good quality.
You're reading this review, but still has questions about the walk in tub? See this site.
Ariel Dual Series Walk In Tubs
All dual series come equipped with these quality features are easy entry and exit, 17 inch seat height and 23 inches in width, and an ADA compliant for individuals that are handicapped and grab bar.
These dual series walk in tubs are made of acrylic material with a contemporary style. Some of the dual air systems come equipped with features such as 6 adjustable whirlpool jets, air jets, drain location, 2 HP heat pumps and an electric water pump motor.Most tall customers found that the height of the seat is rather comfortable and for a ranging price between $2,373.99 to $3,339.17 according to the style chosen.
Ariel Air Series Walk In Tubs
Air series walk in tubs from the company Ariel have become very popular being offered in every style. The comfortable seat and easy access make this bathtub perfect for the elderly who just want to bath and relax comfortably.With an electric air pump to operate the walk in tub that holds 50 gallons can be sure to please all.
The prices for these air series are as low as $2,002.99 and as high as $2,639.99 with numerous features. Customers have found this to significantly limit the number of fallen adults 65 years of age and older, which with the traditional tubs, have a large percentage of 90% for the elderly falling.
This may also bring upon the conflict of finding a company that sells the bath tub of your quality and for a reasonable price. This would mean that customers have to be quite careful about review the products and companies.
Ariel Soaker Series Walk In Tubs
Soaker series walk in tubs are different from the other two series, dual and air. These tubs come equipped with door and latch with an interior design equipped for the comfort and relaxation of taking a relaxing tub.