Rane Walk-in Tubs is a family-owned and operated Walk-in Tub manufacturer founded in 1990. All of their tubs are manufactured in Sparta, Tennessee.

Rane also sells other home accessibility aids like grab bars, shower seats, and support washbasins. Rane understands what people are searching for in the walk-in tub — safety and relaxation. Rane is an industry veteran, making and improving walk-in tubs long before they were popular.
Features and Models
They sell six models of walk-in tubs. Many of the tubs are named after bodies of water or tourist destinations—the Pacific, the Tahoe, the Superior, the Huron, the Mediterranean, and the St Croix. All six models offer different sizes and configurations.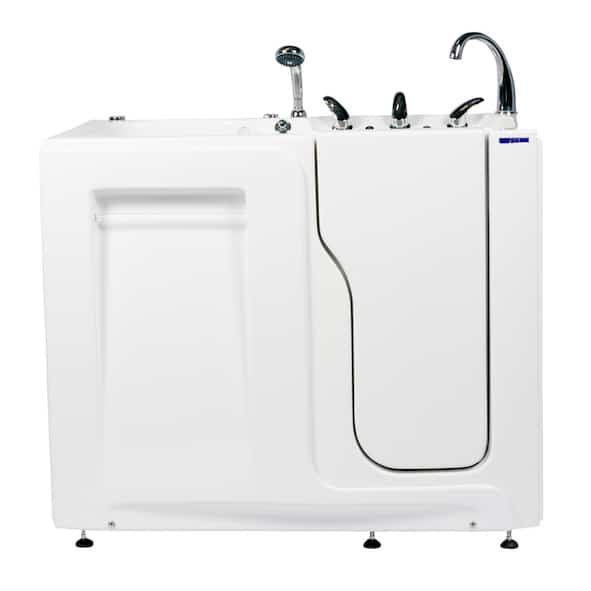 There's a tub to fit the needs of anyone looking for a complete walk-in tub.
The largest tub offered by Rane is the Mediterranean. It's specifically designed as a bariatric tub. The tub contains wider doors and a wider seat. It also stands 41" tall. On the other end, the St Croix is the smallest tub available. It's a shorter tub with a nice, wide door to accommodate entering and exiting.
Comfort and relaxation make up the main reasons people prefer a walk-in tub. The comfort and relaxation possible through a walk-in tub make up a big reason to choose one. Rane walk-in tubs come with the CleanRane Air Spa system.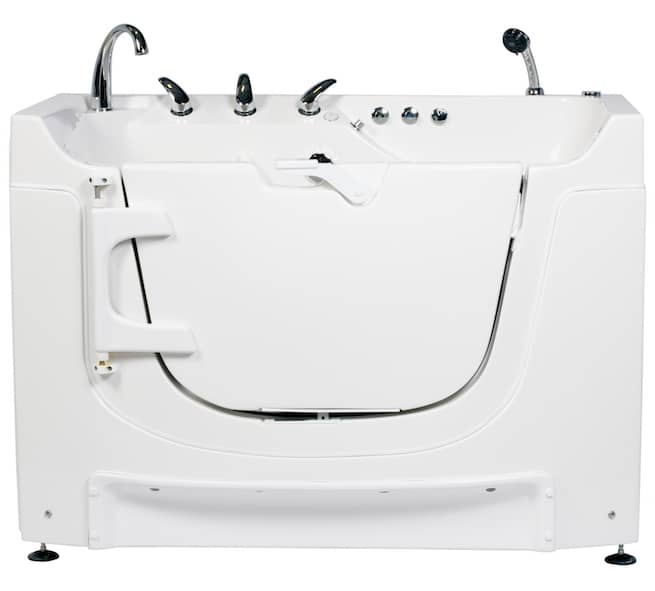 This spa system helps blood circulation and reduces inflammation by gently heating and massaging your muscles. The heated whirlpool system which is a part of the supreme package also massages with water jets placed to maximize comfort and relaxation.
Rane sells an additional line of walk-in tubs directed at hospitals and nursing facilities. These specially designed walk-in tubs don't sit against a wall like a traditional tub but sit out to allow caretakers 360 degree access to the bather. These tubs are not designed for home use, but it's good to know that Rane continues to advance walk-in tub technologies and improve its designs.
Pros and Cons
Pros
-Manufactured by an experienced company dedicated to safety
-Great spa and whirlpool features
-Excellent product warranties
-Low walk-in entry for a true 'walk-in' experience
-Optional amenities like gel seat cushions and pillows
-Aromatherapy and mood lighting
-6 different body types
Cons
-Spa and whirlpool configurations have few jets
-Requires setting up your own tub installation
-No color choices
How much does a Rane Walk-in Tub cost?
The six models covered run from $4,500 to $7,500. However, only covers the cost of the tub itself. Spa and Whirlpool features will add around another $2,500 to the price. A number of other features can be added like oil-rubbed bronze faucet finishes. When these costs are combined, the total can easily reach $10,000. This cost only covers the amount paid for the tub itself. Once options have been selected and the tub purchased, it will be shipped to your house.
Additional costs come from installation. Also, acquiring a larger water heater will often be recommended. The walk-in tubs sold by Rane use between 60 to 90 gallons, depending on the model. Most home water heaters hold 40-50 gallons of water. Many plumbers and walk-in tub manufacturers recommend upgrading your home water heater to accommodate the larger tub. This cost can add nearly $1,000 for parts and labor.
Installing a walk-in tub is no small task. Despite the tubs being designed to sit in nearly the exact same space as a traditional tub, often more work is required.
The water and electrical connections in your bathroom may need extending and adjusting to fit a walk-in tub. Additionally, some walk-in tubs come in a size larger than the doorframes the tub must pass through to reach your bathroom. These are all factors that a good plumber will discuss with you, preferably before purchasing.
What warranty comes with a Rane Walk-in Tub?
Rane offers excellent warranties on their tubs. Specifically, they offer a 5 year warranty on the outer shell of the tub. The spa, pumps, doors, gauges, thermometers, and other moving and stationary parts are covered by a 3 year warranty. The door seal contains a lifetime warranty.
These warranties are on the longer end for walk-in tubs. Rane calls their warranties 'best in class' and they're certainly above average.
How long does a Rane Walk-in Tub take to fill up and drain?
Rane walk-in tubs fill and drain at various speeds depending on the model.
The tubs fully fill between 5 minutes for the smallest size and 8 minutes for the largest size. The tubs generally drain in 2-3 minutes. Because the tubs run from 60 gallons to 92 gallons, the fill and drain time can be a little long.
It's common for walk-in tubs to take longer to fill and drain due to their sheer size.
How many jets does the Rane Walk-in Tub come with?
Rane does not include a number on their website or sales info. The jets are an optional addition. You're welcome to contact them and ask for specifics. Some of the models contain 7-10 jets.
Do I need to hire a plumber to install a Rane Walk-in Tub?
Yes. Rane will ship the walk-in tub to you, but you will be responsible for overseeing the installation. Rane may recommend local plumbers and contractors in your area they have worked with before. 
Some plumbers may minimize problems and difficulties while others will be more direct. Getting more quotes helps you understand the scope of the project before you commit money.