There are two primary considerations as to who needs a walk-in tub. First, it should be someone who would use a tub instead of a shower, especially one with features such as a jet massage system.
Secondly, it should be someone who has or anticipates having a physical or emotional limitation making it difficult to step into a standard tub.
Walk-in or wheelchair-accessible showers are also available for people who do not want or need a tub and are considerably less expensive than walk-in tubs.
Homes with plenty of room may consider both, but most walk-in bathtubs can function as showers. Roll-in showers are available for use with shower chairs. Conversion ramps for existing showers are also available.
Pricing & Installation Info
See pricing

Many circumstances can lead to the need for a walk-in tub. Probably it would be useful to first mention that many walk-in tubs are wheelchair accessible, either being designed for easy slide-in or use with Hoyer lifts, or may even come with built-in lifts or other power assist mechanisms.
Walk-in tubs are not just for people with serious disabilities. Many people of all ages are uncomfortable getting into standard tubs or spas. Just being afraid of climbing into a tub is a valid reason for getting a walk-in tub.
You may have balance problems or just be prone to slipping or falling. Perhaps you have flexibility limitations that make stepping over a tub wall difficult.
Most walk-in tubs are equipped with massage jets of some type. These will be either air or water jets, or possibly a combination. Anyone wanting or needing this type of therapy (or luxury) should consider a walk-in type of tub.
Air jets provide a gentle massage and are particularly good for relieving stress and are suitable for people with sensitive skin or conditions which may result in pain from the more aggressive water jets. It should also be noted that water jet systems may require more maintenance since the recirculating system can become clogged by mineral deposits and may also be prone to bacterial contamination.
Some walk-in tubs are available in sizes suitable for small spaces and may be no more expensive than standard tubs with these spa-like features. Having a walk-in tub may allow people in declining health to enjoy many extra years of being able to live in their own homes instead of having to move to an assisted living facility. Conditions such as arthritis, fibromyalgia, circulatory conditions, or various injuries can benefit from the therapeutic benefits of these types of tubs.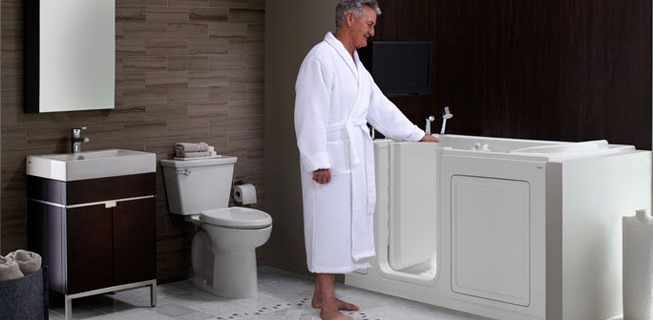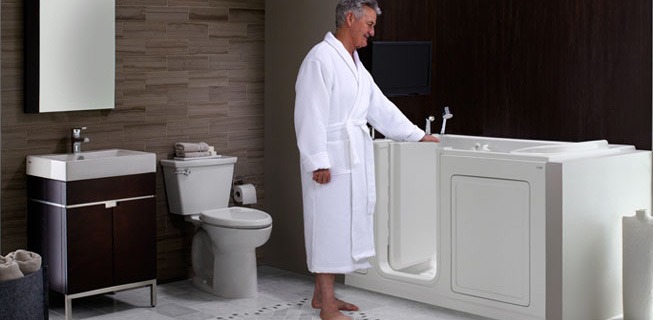 The massage action of hydrotherapy jets is good for relieving cramping and helping with poor circulation. The choice between air and water jets should be based on the recommendations of any therapists who may be involved and on personal tastes as well as finances. If possible, chose a system that has both options available.
Walk-in tubs start at $5,000 and can go to over $25,000.
Installation is additional if it would be for a renovation. In new construction, installation costs would be the same as for conventional tubs with the same features. Be sure that you choose contractors to do the installation who have a reputation for integrity and good workmanship.
If you buy from one of the large chain home improvement stores they usually have installers who are not only competent but unlikely to try to sell you products or services not needed.
One visitor personally dealt with a contractor who wanted to charge $7,000 dollars labor to replace a standard tub with a walk-in shower. The final cost to do the job came to $1,500, parts included. It's very important to see all the prices, as you can see in this post of Kohler walk-in bath cost.
Many people have the ability to do their own installation and may prefer to do it themself rather than have an