Ella's Bubbles offers a large customizable variety of good-quality walk-in tubs, Ella's Bubbles specializes in walk-in tubs and affordable showers.
The company's headquarters are located in Chicago. Ella's Bubbles was founded in 2005. Since then, it has functioned as both a manufacturer and a distributor.
The founder of this company is Laimonis Magone. What inspired him to create the company was seeing his daughter, named Ella, playing in a kids' pool one day. Starting from that inspirational moment, he did his best to reinvent and innovate a pretty idle bathroom fixture by bringing new technologies to the table.

Since then, Ella's Bubbles created and sold walk-in tubs that are meant to offer a more accessible bathing as well as a boosted therapeutic experience for all users. The founder's educational background is in mechanical engineering.
Pricing & Installation Info
See pricing

Therefore, he used his skills and knowledge together with his passion for design and created something new that was successfully launched in the walk-in bath market.
The Company's Vision
A great influence on the way the manufacturer operates on the market was given from the first inspirational spark that led to the company's creation. Ella's Bubbles puts in a lot of effort to prove its safety measures, integrity, and product quality. They want to offer their clients the whole package: great products accompanied by exquisite services; all without making any compromises.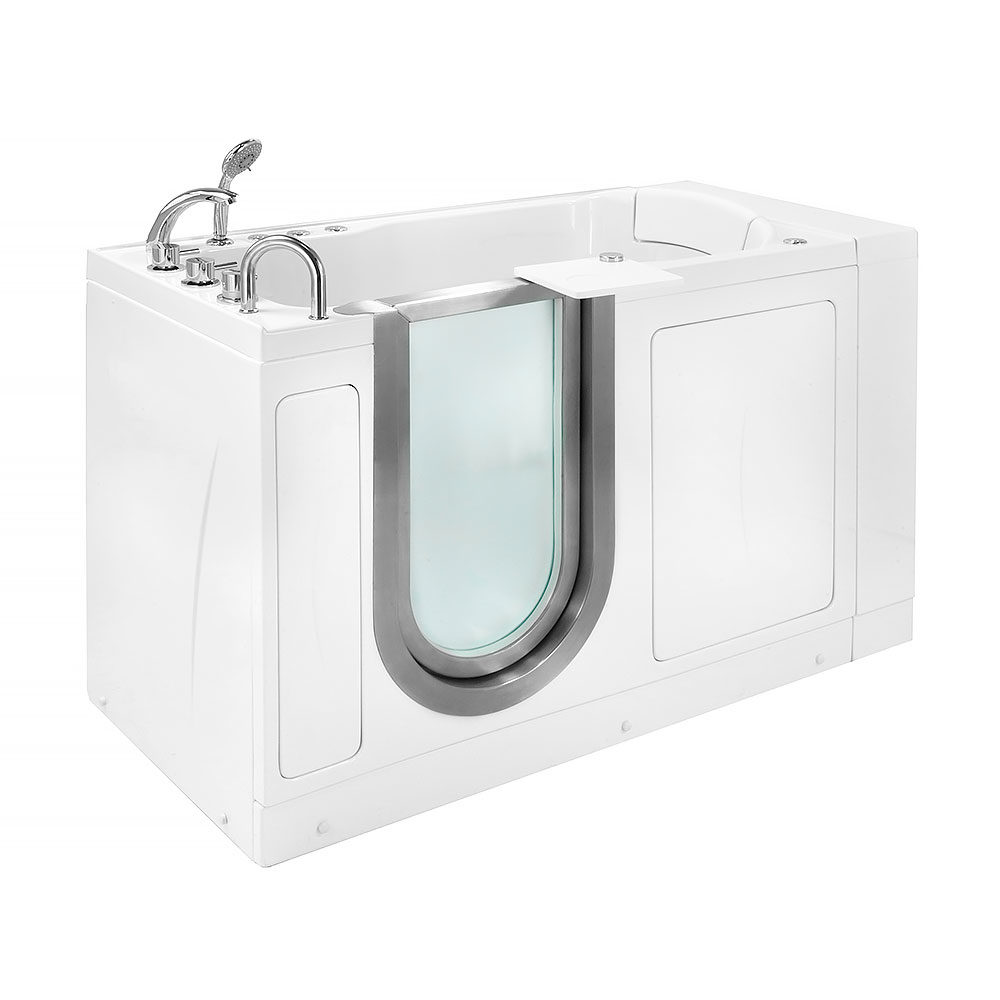 This manufacturer markets a pretty wide range of products: acrylic walk-in bathtubs, barrier-free showers, walk-in tubs made from gel coat fiberglass, shower stalls made from either gel coat fiberglass or acrylic, low threshold showers, shower bases, etc. The coverage of Medicare Walk-in Tub can be seen on your site as well.
How Much Do Ella's Tubs Cost?
The price of Ella's walk-in bathtub ranges between $4,500 and $5,500, based on the model and its features. Obviously, more specialized tubs or larger products came at a higher price tag. Installation costs or remodeling processes are normally added to the initial cost. Finally, if you also want to purchase additional safety bars, accessories, or jets, all those items will definitely increase the price.
A major downside is given by the fact that Ella's Bubbles doesn't offer any rebate, promotion, deal, or price break or financing for any of its products. By comparison, other producers have finance programs. If you are looking for an alternative price you can check Kohler walk-in tub which offers very good options.
Ella's Bubbles Walk-In Tubs – Main Features
There are four main categories of walk-in tubs marketed by the company:
Inward swing – in this case, the door opens towards the inside part of the bathtub; it is a very common and popular door alternative due to the fact that it doesn't occupy a lot of space;
Outward swing – these tubs' doors open towards the exterior part of the bathtub. This is a more comfortable choice but it takes up additional space;
Wheelchair accessible – the door of this type of walk-in tub features an L shape. It is a larger door that functions based on an outward swing;
Two-seated walk-in tubs – with this bathtub, you have the possibility to bathe together with your loved one or your spouse.
Available Door Shapes
U-shape inward swing doors;
U-shape outward swing doors with a 3-latch system;
Large L-shape outward swing doors with a 2-latch system;
S-shape inward swing doors.
Available Body Types
Inward swing tubs – Royal, Petite, Deluxe, Elite, Ultimate;
Outward swing tubs – Lounger, Front-entry, Monaco, Mobile, Malibu;
Wheelchair accessible tubs – Transfer32, Transfer26, etc.;
Two-seated walk-in tubs – Big4Two, Companion, and Tub4Two.
Pros
You'll find a wide variety of walk-in tubs;
All tubs are wheelchair-accessible and they can fit a second person (the companion);
They come with three available massage packages.
Cons
The seats can be a tad hard and cold.
Ella's Bubbles Bath Items – Things to Know About These Products
The company provides a wide selection of tubs, including companion bathtubs with electronic lifts available. Besides walk-in tubs, you will also find some other product categories that are sold on Ella's website:
Regular bathtubs – alcove or freestanding bathtubs made from acrylic and accessories;
Showers – tempered glass shower doors, shower stalls, shower walls and bases made from cultured marble, and shower kits;
Vanities – bathroom vanities and quartz tops.
The Company's Mission
Ella's Bubbles has a pretty simple mission, to provide great quality, comfort, and convenience through the manufacturer's walk-in tubs. They have an appealing design and therapeutic features, not to mention that these tubs are all safe to use by a wide variety of people.
The company also focuses on developing excellent customer support and clients can always receive personalized advice and solutions that come from experienced professionals. According to the company's representatives, one of their major concerns is their clients' satisfaction.
What Clients Say about Ella's Bubbles Walk-in Tubs
Most customers are more than happy with the company's products. They have offered high ratings and positive reviews on many forums and websites. Besides the lack of promotional prices, another important disadvantage that some of the users have mentioned is represented by the cold and hard seats. A few clients have even suggested the purchase of heated seats which, of course, will raise the final price.
Ella's Bubbles Main Alternatives
American Standard – their products have impressive features but they cost more than other brands;
Premier Care– their walk-in bathtubs have deep soak functions and electric water heaters but the installation instructions can be a tad tricky;
Independent Home – the brand's bathtubs are incredibly convenient and comfy and the door system is very durable but some say the space from the faucet to the seatback isn't enough.
FAQ Section
Can People Use Bubble Bath When Bathing in a Walk-in Bathtub?
Yes, all users can enjoy bubble baths in these types of tubs but they must prevent too much foam from coming out of the tub space and flooding the bathroom. On the other hand, bath oils aren't recommended in tubs without air jets.
What's the Normal Weight of a Walk-in Bathtub?
Most walk-in tubs are created for individuals who can control their body balance and who don't exceed 300 lbs. Still, some bariatric tubs can also allow people who weigh up to 600 lbs. to enjoy a warm and relaxing bath.
Ella's Bubbles comes with a very nice selection of walk-in tubs that are also pretty decently priced compared to many other similar brands.
These tubs are convenient, comfortable, safe, and relaxing. Some of their models will even allow a caregiver to enter the tub's space to assist the person who's bathing.