Safe Step Walk-In Tubs: Takeaways
Safe Step costs between $2,500 and $10,000, plus installation costs.
Integrate safety with relaxation
In our comprehensive tests, the Safe Step tub performed exceptionally well.


Safe Step Walk-in Tub was founded in 2001 in Nashville and now proudly manufactures its entire range of walk-in tubs in Tennessee.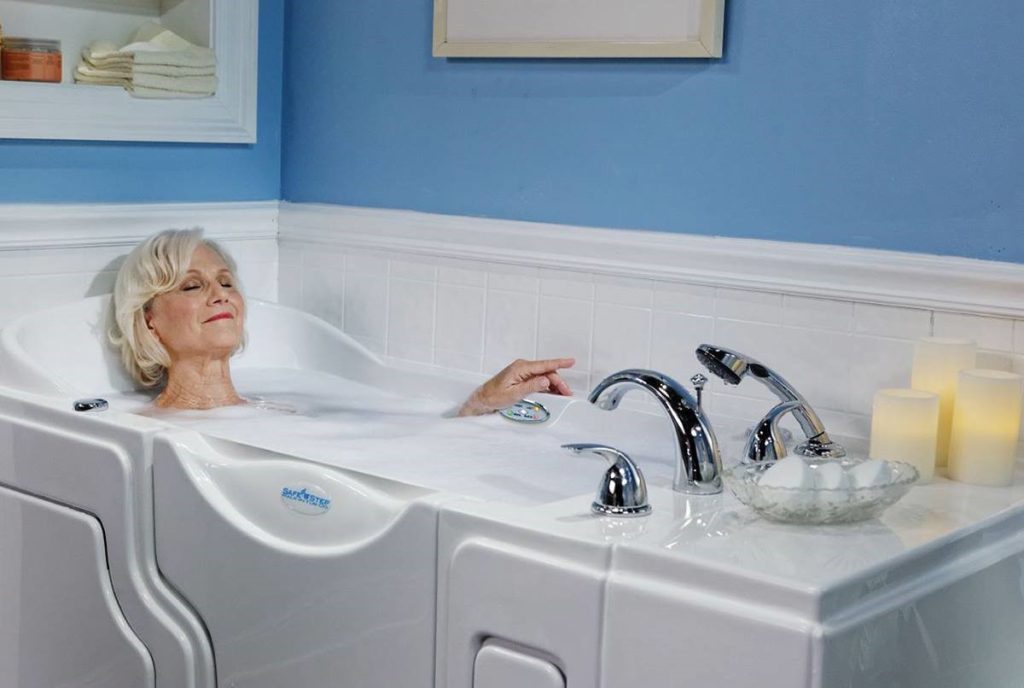 Safe Step Walk-In Tub Features

Safe Step has three different varieties, but each one offers convenient features:
In-line water heater.
Controls that are easy to reach.
Step-up of under four inches..
Locking handle that is easily operable by anyone.
Anti-slip
Surface that is easy to clean.
Other features include:
Scald-Proof Technology: Prevents water from getting too hot.
Wide-Access Door: Larger than standard for easy entry.
Wall-Mounted Grab Bars
Quick-Release Drain
Anti-Gravity Purge Jets
Ozone Cleaning System
The available options include Air Jet Therapy (Gentle Jet), Hydro-Jet Therapy, and a Dual Hydrotherapy Massage System. The Air Jet Therapy System features 10 water jets and 16 bubble streams, offering a soothing massage experience for the feet, back, and legs.
The Hydro-Jet Therapy system allows the user to change the speed at which water is dispensed and has ten ports built into the tub to help people relieve tension all over their bodies.
The Dual Hydrotherapy Massage System gives the user access to both massages and a whirlpool experience.
Safe Step excels in crafting bathtubs with slip-proof surfaces, ensuring enhanced safety for users.
Safety
Each tub comes complete with grab bars, a low entrance threshold, and anti-slip surfaces, as we've come to expect from walk-in tubs.
They do, however, have certain unique characteristics, such as anti-scald technology and overflow drains, to make them even better.
It's easy to assume that a walk-in tub is all about safety when first hearing about it, but Safe Step's walk-in tubs are designed with safety in mind.
But that doesn't mean they sacrifice comfort for convenience. Their product is on the next level.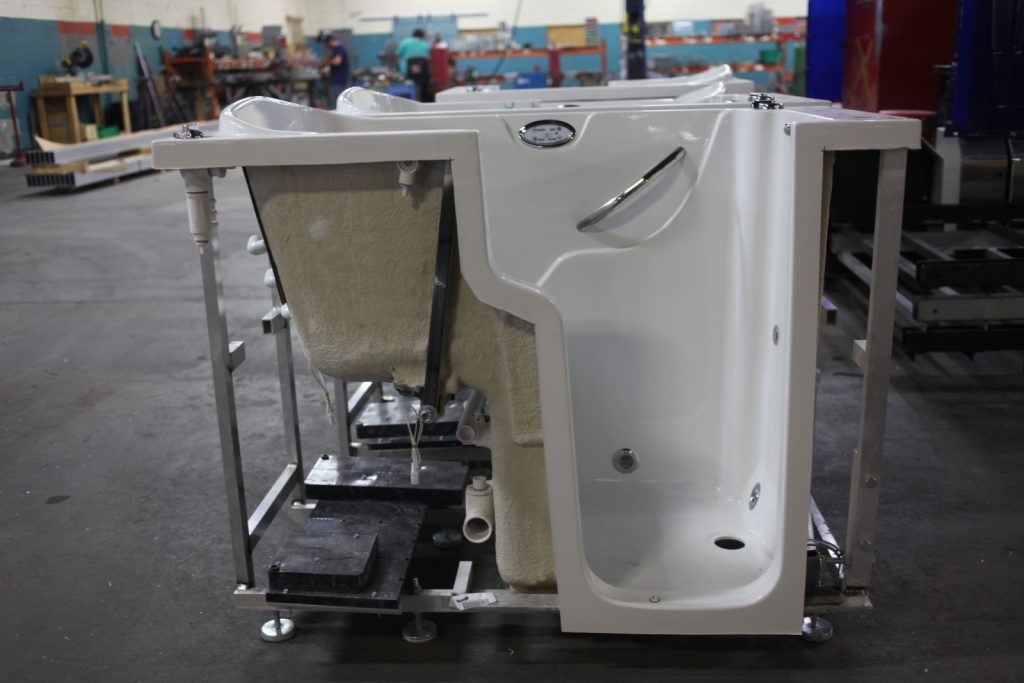 How Much Does a Safe Step Walk-in Tub Cost?
Safe Step Walk-In Tubs cost between $5,000 to $10,000, varying by model, features, plus installation.
| Feature | Price |
| --- | --- |
| Walk-in Tub | $2,500 – $8,000 |
| Walk-in Shower | $4,000 – $10,000 |
| Hybrid Tub | $2,500 – $10,000 |
| Cost of Installation | Approx. $5,000 |
| Total Estimated Cost | $8,500 – $16,000 |
This price table was updated on 02/11/2023.
When you choose, always remember that the price & cost of installation need to be verified directly with the company for the final quote.
We believe that you get what you pay for, and Safe Step Tub is an amazing choice, despite the cost.
Summary
Safe Step Walk-In Tubs cost between $5,000 to $10,000, varying by model, features, plus installation.
Safe Step Pros and Cons
What We Liked
Premium Quality
Free Consultation
Lifetime Warranty
Lowest price guarantee
Support

Safe Step Hybrid Walk-In Tub
Safe Step Hybrid Walk-In Tub is a version of a walk-in tub that combines a walk-in tub with a showerhead and you can choose to have an optional upper glass door (euro style) or have a free Safe Step shower curtain like the image below.
The Hybrid walk-in tub combines the functionalities of a traditional bath and a shower.
The Safe Step Hybrid model includes a unique rainfall showerhead, along with a handheld shower wand, allowing users to enjoy a luxurious bath and a shower at the same time. The floating remote control and strategically placed controls make it user-friendly, especially for those with mobility issues. Having a 4-inch step height is one of the lowest in the industry, making it more accessible.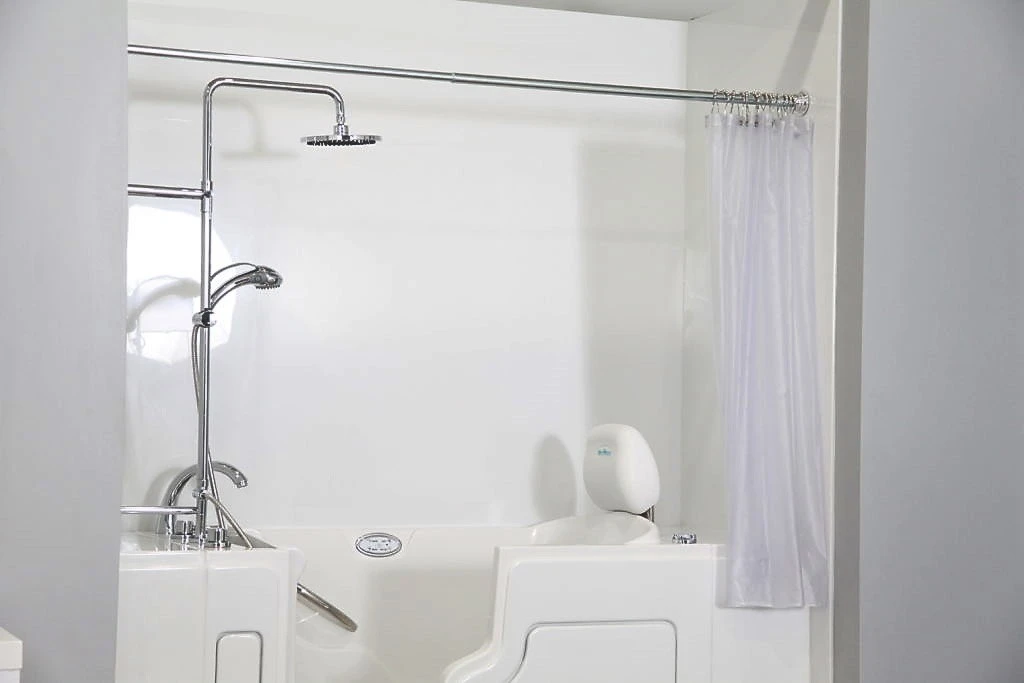 Safe Step Warranty
Safe Step offers a comprehensive lifetime warranty that covers everything, not just the tub. This includes the door seal, faucets, water pumps, heaters, blowers, and even labor costs. Anything at any time, 100% free of any cost for you.

Their commitment extends beyond the installation, ensuring long-term support and assistance for as long as the tub is in your bathroom.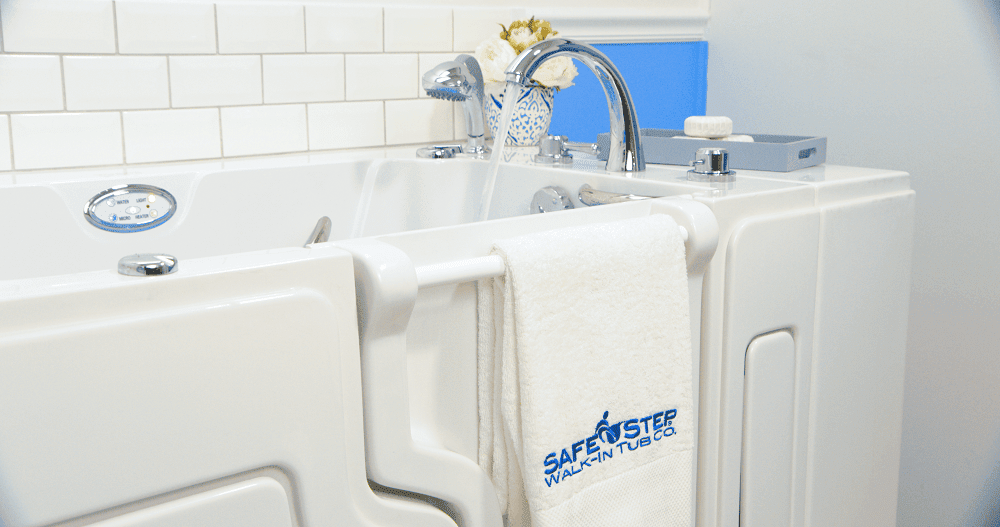 Safe Step Walk-in Tubs Reviews
Customers who left reviews for Safe Step were pleased with the installer's attention to detail and post-installation cleanup.

Most customers were impressed by how quickly their walk-in tub was installed, which ranged from a few hours to less than a day.
Better Business Bureau rating is A+ and Trustpilot has a 3,5 Stars in November 2023.
They provide exceptional customer service, recognizing the importance of support and solving any problems.
Safe Step corporate office can be found at 1650 Elm Hill Pike, Ste. 5, Nashville, TN 37210. There are no brick-and-mortar store locations of Safe Step.
Safe Step vs Kohler Walk-in Tubs
Comparing Safe Step and Kohler walk-in tubs, I found that safety features are a crucial aspect for both. Safe Step impressed me with its therapeutic hydro-jet therapy, something I find particularly appealing for relaxation and muscle relief.
Kohler, on the other hand, caught my attention with its modern design and aesthetics, which could seamlessly blend into a contemporary bathroom setting.
In terms of pricing, I noticed that Safe Step tends to be on the higher end, likely due to its luxurious offerings. Kohler, however, seems to strike a balance between quality and affordability, which could be a more practical option for those on a tighter budget.
Another aspect I considered was customization. Safe Step allows for a high level of personalization to meet individual needs, an aspect I highly value. Meanwhile, Kohler offers a range of pre-set models that emphasize ease of use and elegance. Premier Care is a great solution too.
Both brands offer a lifetime warranty.
Choosing between these two would ultimately come down to individual preferences for style, specific safety features, and the level of customization desired.
Safe Step Frequently Asked Questions