Heavenly Walk-in Tubs is a manufacturer and seller of walk-in tubs headquartered in Utah. The company was founded in 2010 and produces a walk-in tub with a unique feature—it rolls.
Their walk-in tubs were specifically made and sold as one of the only portable walk-in tubs on the market.
This feature allows individuals who use walk-in baths because of mobility issues to avoid bathrooms entirely.
Heavenly Walk-in Tubs should be considered by those wanting a walk-in tub that maximizes bathroom safety.
Pricing & Installation Info
See pricing


Features and Models
Heavenly Walk-in Tubs offers 3 separate models of walk-in tubs. The Portable Soaker Tub, Portable Petit Hydrotherapy Tub, and Portable Hydrotherapy Tub round out their tub offerings. What they lack in selection they make up in sheer uniqueness.
Each tub comes with 6 locking wheels so that the tub can be relocated. Understandably, some might not be comfortable bathing somewhere that isn't a bathroom. However, for others, it's not an option. Each model sold by Heavenly Walk-in Tubs differs from the others by a few inches in height or length.
Since the tubs are designed specifically to be rolled into and out of a room, they do not require installation. Bathroom remodeling is a big headache and Heavenly Walk-in Tubs has found a way to spare their tub buyers from it. On top of saving thousands of dollars, it also allows you to locate a tub somewhere other than a bathroom. Simply use their connection water box to connect the tub to any sink or shower faucet. You simply need to screw it on and use it. Since the tub has an in-line water heater, the temperature isn't lost while it's operating.
The enjoyment of owning a walk-in tub comes from a relaxing bathing experience. Heavenly walk-in tubs can come with up to 25 air and water jets. Heavenly Walk-in Tubs calls their whirlpool features hydrotherapy and lists the benefits of hydrotherapy including increased blood flow and the pain decrease for a wide range of ailments. Certainly, a hot, calming bath can melt away stress and some pains. It's a small, private pleasure that often goes overlooked.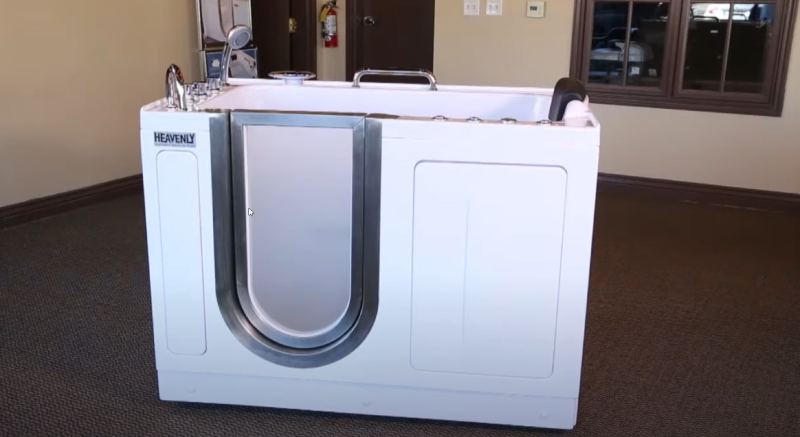 Let's talk safety. Since Heavenly Walk-in Tubs puts paramount importance on safety these tubs come with a few more safety features. The low door threshold, ADA (Americans with Disabilities Act) compliant seats, removable emergency door, non-slip floors, grab bars, and a water temperature safety control are all some of the added safety features. The temperature control can be very helpful since it prevents an individual from accidentally scalding themselves in hot water which is a risk any tub carries.
Heavenly Walk-in Tubs have created tubs with expanded functionality beyond simply a portable tub. Their tubs can also be used as showers. An additional shower wall attachment can be purchased to turn the tub into a true shower. The tub itself can also be installed in a bathroom like a traditional walk-in tub if it's desired. It's a versatile tub.
Pros and Cons of Portable Walk-in Tub
Pros
Usable in multiple rooms—it moves!
Acrylic surfaces resist mold and wear and tear
No installation is required—a huge plus!
Can potentially count as durable medical equipment for Medicare
10 water jets and 15 air jets, if chosen
Ergonomic controls
Optional bidet feature
Cons
Only useable in rooms with sink, shower, or tub
Must modify existing water outlets to use
The door entry lip is higher due to being on wheels
How much do Heavenly Walk-in Tubs cost?
Heavenly Walk-in Tubs cost between $6,000 – $8,000, the most expensive tub is the largest with the most features. Heavenly Tubs does offer built-in models that will require installation, adding more to the cost.
Even though Heavenly Walk-in Tubs do not need to be installed, it may be necessary to purchase a larger water heater. These tubs use around 60 gallons of water when occupied. A typical home water heater holds 40-50 gallons of water. Upgrading to a new water heater can cost several thousand dollars for the new heater as well as installation. Though the lack of installation requirements on a Heavenly Walk-in Tub will save you thousands, this hidden cost remains.
Another item of note when it comes to the cost of a tub is the fact that Heavenly Walk-in Tubs could be considered Durable Medical Equipment when it comes to Medicare.
This means part or all of the cost could be covered. You will need a doctor's note specifically prescribing the tub as part of getting the cost approved for reimbursement. If you'd like to know more about the possibility of Medicare covering part of the tub.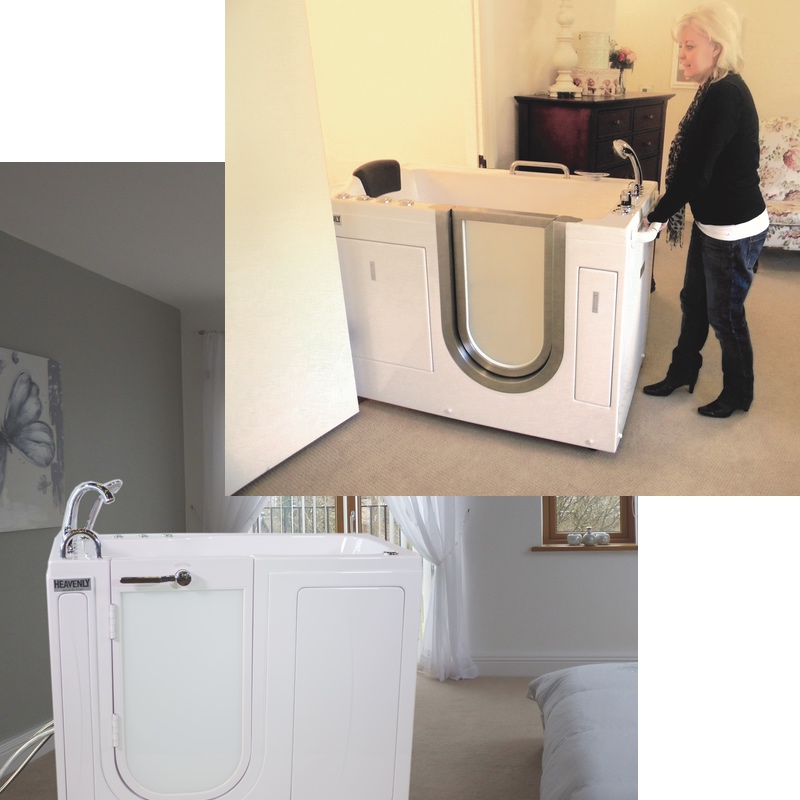 What Warranties are offered by Heavenly Walk-in Tubs?
Every Heavenly Walk-in Tub comes with a limited lifetime warranty. This warranty covers the bathtub shell, door seal, and door. The pumps and blowers come with a three-year warranty.
Be aware that since a Heavenly walk-in tub is a sanitation item it cannot be returned. The sale must be canceled before shipping starts.
How long do Heavenly Walk-in Tubs take to fill up and drain?
Heavenly Walk-in Tubs connect to your home sink or shower water supply. This means the fill at the speed of a faucet. It can take 5-8 minutes for a home sink to fill a 60-gallon walk-in tub, like American Standard walk-in tubs they have a fast draining time.
Heavenly Walk-in Tubs includes a water drain pump in their tubs. This allows the tubs to drain as fast as 90 seconds. Most walk-in tubs drain much longer—around the same speed as filling, 5-8 minutes. This feature helps the bath end quicker and keeps the bather from getting chilled because of a long wait while being wet.
How many jets do the Heavenly Walk-in Tubs come with?
The Portable Soaking Tub sold by Heavenly Walk-in tubs does not come with any jets. It's also the cheapest tub they offer. The two other models sold can contain 10 water jets and 15 air jets for a total of 25 jets. An optional bidet can also be included.
Do I need to hire a plumber to install Heavenly Walk-in Tubs?
NO! The Heavenly Walk-in Tub is specifically designed to avoid this hassle. Many individuals needing a walk-in tub cannot afford the extra cost and hassle of a bathroom remodeling project. The freedom of having a tub moved directly to bedside is unimaginable with other walk-in tubs. Heavenly Walk-in Tubs save money and days of labor by being portable.
Heavenly Walk-in Tubs also ship a version of their tubs suitable for installation in a bathroom, but they will not provide installation assistance. It will be up to you to contact and hire a plumber to install the tub once it has been shipped to your address. Given that the tubs are sold for their portability, it may be worth considering other manufacturers if you intend to have the walk-in tub installed in a bathroom.