Independent Home, a manufacturer of walk-in tubs, in business since 2002.
Since then, the company has helped thousands of people bathe more safely.
The company manufactures high-quality walk-in bathtubs, and they also install them. Independent Home has always made sure that the products they sell are affordable, and that anyone can buy them.
One of the unique things that the company does is create a mold based on its customers' needs. The company uses fiberglass over mold as well as around the frame.
They then apply fiberglass with a gel coat. All of the materials that they use are of the highest quality.
Cube, Celebrity, Acrylic, Imperial, and Supreme are some of the walk-in tubs that the company sells. These tubs weigh around 200-500 pounds, and they can replace an existing tub or shower. All of the tubs that Independent Home sells are durable and ideal for all types of people.
Independent Home Walk-in Tub Cost
Independent Home prices on tubs vary depending on the features you choose to install at your home, in order to receive a quote on a tub, a person will need to request a quote and speak to a representative of the company.
The same thing goes for installation pricing. In order to get an exact price on how much it will cost to have a tub installed, a person will need to contact the company directly, and then they can receive a quote.
When it comes to affordability, on a scale of 1-5 (with 5 being the best) Independent Home receives a 3. The company would get a higher rating, but they do not list their prices on their website, and they should.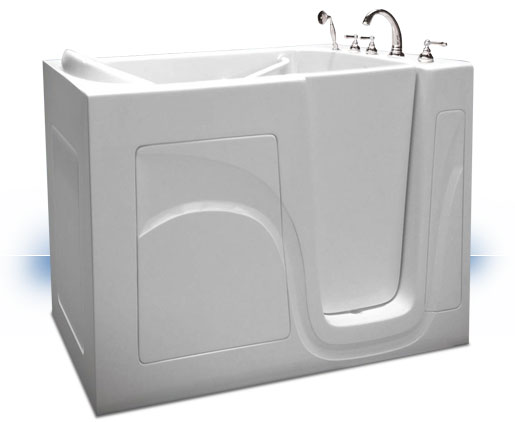 Locations
The company sells its products online. All a person needs to do is pick up the phone or fill out a short form, and then someone from the company will contact them. However, there are independent dealers located all around the nation.
The company's factory is located in Long Island, New York. This means that the tubs that the company makes are made in America.
Some people may not be interested in getting a quote online, and if that is the case, then they can call the company directly. Another good way to contact the company and speak with a representative, then they can go to the company's website and speak with someone via live chat. The company has made it very easy for customers and potential customers to contact them.
Other Information About Independent Home
The walk-in tubs that the company sells come with a great warranty. Some companies only have warranties that are only good for a certain amount of time, but that is not the case with Independent Home. Every single tub that the company sells comes with a lifetime warranty. This is great because it means that if something goes wrong with the tub's material or defects occur in the tub, then the chances are the warranty will cover it.
Also, it is worth saying that it does not take long to have a tub installed. Independent Home installs tubs within a day. That means that when a customer orders a tub, it will be installed within one day. This is more than fair, and it Independent Home's installation process is actually quicker than what many other companies offer.
Conclusion
On a scale of 1-10, with 10 being the best, Independent Home gets a 9.7, which is very good.
However, the company does offer high-quality products they have excellent customer service, and really cares about its customers.
If a person is looking to get a quality walk-in tub, and they want to do business with a good company, then Independent Home is the company they want to do business with.