Buying a walk in tub might seem an easy job to do but, you have to consider a lot of aspects.
There a lot of different models available on the market nowadays, and you need to think about your needs, before getting one.
With this article we will try to help you to decide which walk in tub.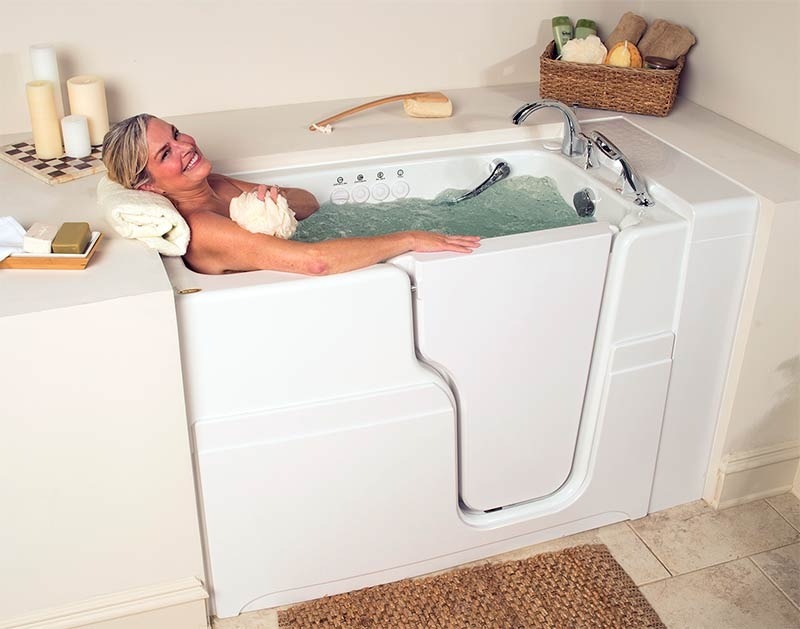 First of all, let´s talk about safety. Safety is the main topic, when we talk about a walk in tub. If you are considering buying one walk in tub, it probably means that you have some seniors or someone with disability in your family. So, the walk in tub must offer safety and the person who is going to bath needs to be able to do it independently.
As we know, what distinguishes a walk in tub from a regular tub is the door located in it. The door makes the entrance much easier and safer. Usually their prices go from $1700 to over $10,000, depending of course, on the features they have, if you´ll have it professionally installed, and the most important thing; the quality of the product you´ve chosen. For example, Safe Step Walk in Tub is one of best sellers and start with 9.000$ + install.
Don´t base your decision on prices only; you might regret later. What are the benefits on buying something because it´s cheap, but in the end won´t meet your needs? It will be just a waste of money and time; and that´s why we are here to help you.
We will show you a list with the most important features to evaluate when considering buying a walk in tub:
The material
What is the walk in tub that you are checking made of? Is it acrylic or is it fiberglass? Which one is stronger? Well, comparing both of them, acrylic and fiberglass, we´ve noticed that fiberglass is stronger. Maybe that´s why most of the walk in tub produced nowadays are made of fiberglass.
But, that´s not all, you have to check the quality of the fiberglass that goes into the tub as well. Pick Marine Grade Gel Coat over the Chinese fiberglass, which has a very poor record.
Pricing & Installation Information
See pricing ➜

Is it just a tub with a door, or it offers other things?
Some walk in tubs don´t have anything special beside its door for easy entrance. Other ones have, for example, air jets or bubbles for a relaxing bath. We recommend you to buy a hydrotherapy tub; which is a walk in tub with both features; bubbles and air jets.
Hydrotherapy is high recommend because of its benefits for our health. It was proved that hydrotherapy relieves arthritis, rheumatoid arthritis, depression, insomnia, the symptoms of diabetes, MS, MD, and many more. But that´s not it; it also helps to regenerate injured tissues.
Your walk in tub is built on a steel frame or not?
The framed ones have its bottom suspended off of the floor, and they usually have a 6" to 12" entry threshold. Now, the frameless ones don´t have their bottom suspended in the air, because they were designed with an extra strength mold.
The next aspect to consider is the drain time
But why is it important? Because you can´t open the door until all the water is drained. If you are thinking about getting a frameless tub we will be glad to know that they have a much faster natural drain time than the framed ones. Usually they take 2 minutes to drain.
Some companies with slow drain will offer you something called "a minute valve". This is an extra pump, which you will install under the tub and requires electrical power. We don´t recommend tubs with that option because in case it fails, it will be extremely difficult to drain the tub and open the door. Your tub will need to be removed from the opening to service or replace a failed minute valve
Warranty
This is very important and, especially the warranty of the door seal.
There is 600-800lbs of water and that creates a lot of dispersion, which puts a lot of pleasure on the door and mold, and, if your walk in tub is poor in quality, it will result in door leaks. And, if the door seal leaks, it will be impossible for you to use the tub.
Least but not less important, you have to check about the installation process of your tub. To install one walk in tub, you will need professionals, because it requires carpentry, plumbing, electrical, and sometimes more.
So, even if it costs you more, the smarter decision you can make is to buy a walk in tub from one company which will install and service your tub .