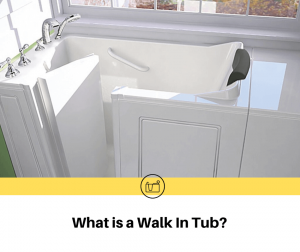 You may have seen the commercial for the Walk in Bath Tub on T.V. recently, or maybe you've recently read a little snippet about it on the internet.
The following will give you the information you need to know if you've been thinking about purchasing one of these tubes for a loved one. The question in everyone's mind is the following:
What exactly is a Walk In Tub and who can benefit from its use, Walk In Bath Tub is the perfect solution, that can provide anyone who is suffering from the following illnesses a pleasurable alternative to using a regular bathtub.
Arthritis sufferers.
Chronic pain sufferers.
People who suffer from muscle spasms.
Anyone that uses a wheelchair or special lift.
Pricing & Installation Info
See pricing

It is a special bathtub, made especially for people who suffer from the issues mentioned above.
When you suffer from these issues, you are constantly worried about losing your balance, the Walk In Tub takes that fear away.
The Walk in tub relieves the worries the bather might have of falling, as he/she tries to get into a regular bathtub. Once the Walk in tub is in place, that anxiety is replaced by calm.
This tub is perfect for anyone with a disability that prevents them from using the regular bathtub in their home. It is especially beneficial to elderly people, who are having difficulty stepping over the side of a regular bathtub. See more of those who need walk-in tub in your day.
Some Walk-In tubs are made especially for wheelchair-bound individuals; the Walk-In tub allows individuals to be transferred from the wheelchair to the tub with ease.
You can either purchase a free-standing Walk-In tub or a portable one. The main difference between a portable Walk-In tub and a regular Walk-In tub is: the portable Walk-In model can be moved to another location, if necessary. The choice is totally yours.
The Walk- in Tub is very easy to get into:
You have the option of choosing whether the door opens inward or outward. You can also choose to have the door open to the right or to the left. It is straightforward to get into the walk-in tub; all you have to do is walk-in, sit down, close and latch the door and have a nice relaxing bath.
The door for a Walk-In safety bathtub is designed to seal shut so that no water escapes. If you are suffering from any condition that is affecting your muscle strength; there are a few models that are designed with this in mind.
These models are equipped with an easy latch, in order to make the Walk-in tubs even safer. Some Walk-in tubs are made specifically for people who do not have enough muscle strength to close the door on their own.
In order to make it easier to close the door to the bathtub, the door is made with a latch that is easy to use. Some Walk in tub models come with seat, which will make the user feel, as though they are giving themselves a treat. Some tubs have seats like the ones in fancy cars; you can either use a belt to lower the bather in and out of the tub, or you can use the powered seats and get really fancy.
In choosing the tub you could choose between two types of material, I advised him to give a reading in our article, on the difference between the material of the tubs (Acrylic Tubs vs. Fiberglass Tubs).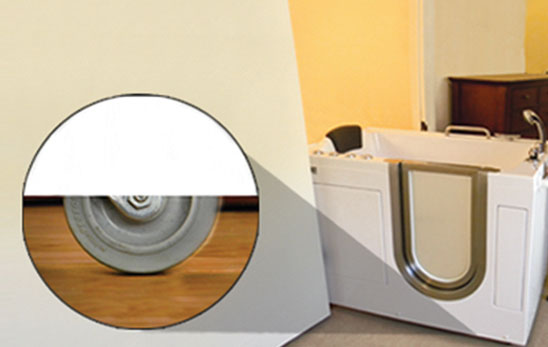 Fixed Walk in Tub
The Walk in tub, comes in the following models:
Air Bath, Bathtub. Combo massage and Whirpool styles really give you the feeling of spending a few hours at a day spa.
The Walk in tub is fantastic for anyone with balance issues, that prevent them from feeling independent. Most seniors are placed into nursing homes due to balance issues they may have; they may have fallen while trying to get into the tub, and the fear of falling again has made them afraid of bathing.
The loss of balance can cause injuries that are very deadly to anyone, let alone a senior citizen. You can fall and hit your head, or you can break an arm or leg.
If you do fall, there is a possibility that you might fall on your face. If that is the case; you might split your lip, suffer an eye injury, a broken nose, etc.
Do you have Medicare? Read this article which tells if Medicare pays for Walk in Tub in your home. There are very rare cases where they pay all costs!
As you get older, your body does not heal itself as quickly as it did when you were younger.
The easier you can make it for yourself, the better it is for you.