The average cost of a walk-in tub generally ranges from 4,000$ to 25,000$, so now you need to understand why a huge difference, right? 
Whether you're looking for yourself or someone you know, reading through the assortment of walk-in tubs is highly advised before making a decision about which walk-in tub to purchase.
Many people find themselves in the position of having to buy for a close family member.
There are many reasons that one might need to have this type of tub over a traditional bathtub or shower. Additionally, there are many things to consider before buying.
Pricing & Installation Info
See pricing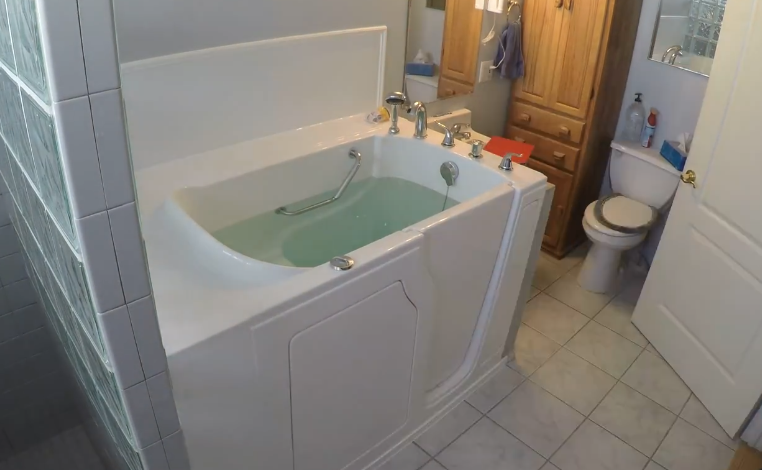 Walk-in Tubs Cost and Installation Prices
Let's start with your budget. Most of these bathtubs can range anywhere from $1,000 all the way to over $25,000. If you spend less than several thousand, expect the quality to be compromised. You also can get Medicare approved.
The most decent products and brands are going to be somewhere between $3,000 – $5,000 US dollars.
| Company | Cheap | Premium |
| --- | --- | --- |
| American Standard | $5,000 | + $11,200 |
| Kohler | $7,500 | + $20,000 |
| Safe Step | $8,000 | + $11,000 |
| Jacuzzi Walk-in Tub | $4,800 | + $8,000 |
| Premier Walk in Tub | $4,000 | + $9,000 |
| | $4,999 | + $10,500 |
How Much Does It Cost to Install a Walk-In Tub?
Jesse Garrett, an experienced general contractor based in Charlotte, North Carolina, indicates that the cost of installing a walk-in tub usually falls within the range of $2,000 to $10,000. The total cost can fluctuate based on several elements. The capacity mismatch between most traditional water heaters (50 gallons) and walk-in tubs (60 gallons) often necessitates an upgrade to a tankless water heater. This upgrade could cost from roughly $1,400 to over $2,000, inclusive of installation. Additionally, the pricing for extra installation work can significantly vary based on the extent of the labor needed.
Garrett highlights several factors that could elevate the overall installation cost:
Drain clearance or pipe replacement to enhance water drainage could cost between $250 and $2,500. This is crucial as many walk-in tubs incorporate fast-drain features, yet blockages or malfunctioning pipes can impede drainage.
Adjusting or replacing water supply mechanisms could carry a price tag ranging from $500 to $2,500.
In case wall damage occurs when accessing water supply lines, new tile or drywall installation may be required, potentially costing between $1,000 and $5,000.
If the dimensions of the walk-in tub differ from the existing tub, new flooring or tile installation might be necessary, incurring costs between $500 and $3,500.
Accommodating the size of the walk-in tub, typically 28 to 32 inches wide and 3.5 feet high, may call for structural alterations like broadening the bathroom door. Such renovations could add between $1,500 and $3,500 to the overall cost.
Beyond price point, be mindful of the different materials and features available when reading through the walk-in tubs reviews. Some are made with fiberglass and others are acrylic.
Many styles have a seat, but some do not. Will you or your loved one need a grip bar, a handheld shower head that can be wall mounted, or what about some wonderful whirlpool features? Additionally consider that some have inward-opening doors and with others, the doors swing outward.
The former is great for maintaining a natural seal that can help prevent leaks, but it also could become difficult, if not impossible, to open in case an emergency should arise.
One of the last things to consider is your individual space. If you have a small bathroom, you might not have room for one of the larger models that allow for more in-tub mobility. If that's the case, keep your search limited to the smaller sizes. The sizes range from about 36″ to -60″ in length with the mid-range being about 48″-51″ long. The width varies among different models.
Suppose a grab bar on its own isn't enough, and you need another device to help you into the tub. Bath lifts are quickly becoming a popular option. These devices are powered by batteries and installed in minutes. They allow the user to sit comfortably and be lowered into and raised out of the tub without having to step over the edge.
And don't worry about getting stuck – though powered by battery, most bath lifts have a feature that will not lower the user into the tub if it knows it does not have enough power to pick them up again. When these possibilities still usually are not enough, phase 2 may be to take a look into a new walk-in bathtub. These helpful tubs attribute a back-to-the-inside swinging door allowing for quick access for men and women of any physical functionality.
It additionally allows the consumer to remain comfortable like sitting in a chair, as well as the addition of bubble aircraft and whirlpools pledges a tranquilizing bath time experience. Additionally, they sport good-looking chrome faucets that can match almost any restroom.
The main reason for purchasing this type of tub is due to the concern of falling. Because most bathtubs have a slippery surface, the elderly are at a high risk of falling and experiencing resulting injuries that might even require surgery. Another reason is that you or your loved one could be finding it increasingly difficult to step over a bathtub rim.
This could be due to pre-existing knee or hip problems or vertigo. No matter your reasons, there are many things to consider, and going through a complete list of walk-in tub reviews can help solidify your plan. While any option will be somewhat costly, the pros far outweigh the cons. You can't put a price on your or your loved one's safety, so look into these bathroom safety features today before an accident happens in your home.
Hopefully, you have some idea of what to look for when searching through the walk-in tubs.
No matter which dealer you choose to work with, make sure that they take the time to answer your questions and concerns.