Jacuzzi is a family name synonymous with their products. After immigrating to the United States over 100 years ago the Jacuzzi brothers turned their industrial innovations from aviation to hydrotherapy.
Specifically, they began designing water pumps in the 1905s which were the first of their kind—portable and personal. From these early designs, their water pumps transformed into the consumer spa tubs known today throughout the world.
Jacuzzi knows tubs. They invented much of what we love about them today.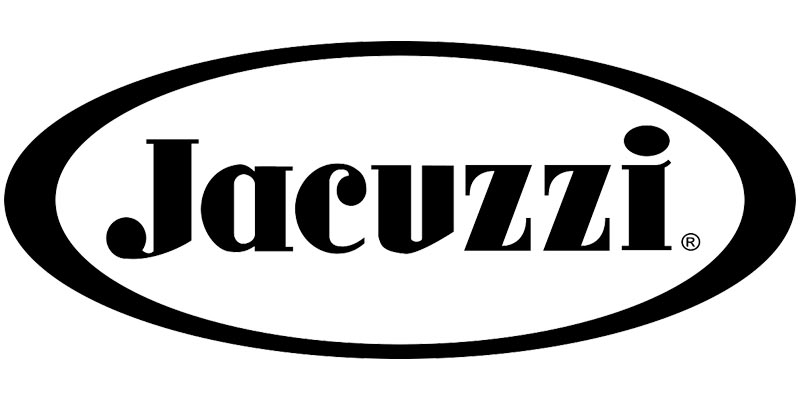 Features and Models
Beyond traditional tubs and spas, Jacuzzi offers a line of walk-in tubs. Walk-in tubs are easy to spot in a lineup of tubs. They feature a distinct door and a shallow seat. They are built to be walked in and enjoyed.
Jacuzzi has perfected its walk-in tubs into two main models. One is meant as a replacement model for some of their other tubs and comes in a standard size.
The other walk-in tub model is called the Finestra. Both tubs can be customized in a number of ways. The spa and whirlpool systems are state-of-the-art, Jacuzzi creations that aim to delight the skin and warm the soul. Their systems come with easy-to-use buttons and the orientation of all the jets is fully customizable.
Jacuzzi sells its tubs with both colored lights and aromatherapy options available. Epsom salts can be added to their systems without compromising their functionality.
Their walk-in tubs also come in three colors—white, oyster, and almond.
No matter how you enjoy a Jacuzzi walk-in tub, their safety features are also worth a look. An ergonomic grab bar makes entering and exiting the tub as safe as possible. A dual-pin door locking system makes sure that no leaks will ever occur. It's a safe, clean, enjoyable tub that any achy body will love. With all these features you can find the American Standard Walk-in Tubs as they have massaging water jets or air bubbles for a spa-like experience.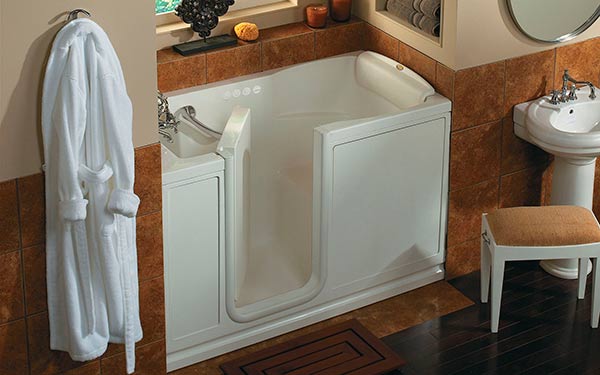 Pros and Cons
Pros
-The Jacuzzi brand name and quality
-Three different kinds—Salon Spa, whirlpool, and soaking
-Aromatherapy and colored lighting
-Current sales up to $1,500 off
-Epsom salt compatible
-Comes in three different colors
Cons
-Selection is more limited compared to competitors
-Some of their models are on the pricier end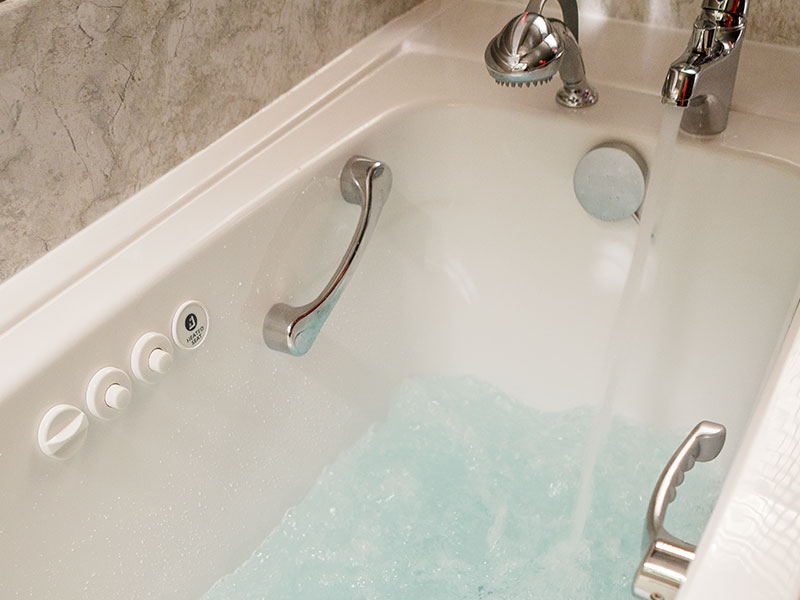 How much does a Jacuzzi Walk-in Tub cost?
Walk-in tubs sold by Jacuzzi run from $4,844-$8,026. Jacuzzi quality comes with a price point a touch higher than some competitors.
The good news is that Jacuzzi offers specials regularly throughout the year with up to $1,500 off these prices. Not too shabby. As with any walk-in tub seller, financing is available and a great option for those interested in a tub but not in a financial position to drop that kind of money at one time.
If you're interested in buying a tub, you should consider the cost required for installation as well. Walk-in tub installation is an involved process that can take significant time and money on its own. The costs depend in part on the design and age of your home.
Jacuzzi sells a version of their tub designed to replace most existing, 60-inch tubs found in modern American houses. However, your house may contain a more unique tub or be built in a different era. This may mean more work for the installation team. Older homes contain narrow door frames that a new walk-in tub won't pass through without it being widened. Walk-in tubs cannot be broken into smaller components to then be reassembled in the bathroom, so any doorway too narrow for the tub will have to be adjusted.
Also, keep in mind that Jacuzzi may recommend a larger water heater to accommodate your new tub. Water heaters in older homes or smaller properties can be too small to heat a walk-in tub with enough water. Working with the installer is key.
What warranty does Jacuzzi's Walk-in Tub come with?
Jacuzzi offers one of the better warranties on the market. Expect up to a two-year warranty on the factory labor of the tub as well as a lifetime warranty on the shell, factory-installed pumps, jets, and controls. Jacuzzi sells a number of bath and spa systems.
The walk-in tub warranties are comparable to their other spa system warranties.
Be sure if you are purchasing a walk-in bathtub to verify which parts of the tub and installation are covered by which warranty and for how long. Labor done onsite is unlikely to be covered by Jacuzzi itself.
The good news is that, unlike some walk-in tub manufacturers, Jacuzzi has years of experience perfecting its spa systems and repairing them when needed. You'll be in good hands.
How long does a Jacuzzi Walk-in Tub take to fill up and drain?
Jacuzzi walk-in tubs come with Fast Fill and fast drain technology. Fill and drain speeds are always a customer concern. It's inconvenient to wait for a lengthy fill and can ruin your relaxing mood. That's why it's great that Jacuzzi includes newer technology in their tubs to fill and drain the tub at fast speeds. When you're cold while waiting for a tub to drain, it can worsen the entire experience.
How many jets does a Jacuzzi Walk-in Tub come with?
Jacuzzi walk-in tubs come in two primary setups. The Salon Spa comes with 10 jets.
The 10 jets are customizable in direction and intensity to help you find the perfect bathing experience. Their other experience is a simple whirlpool setup with their famous Jacuzzi name and design.
The intensity and direction of these jets are completely at your discretion. A control panel at the top of the tub gives you access to adjust any settings you wish and ensures each time you bathe it's a perfect experience.
Do I need to hire a plumber to install a Jacuzzi Walk-in Tub?
No. Jacuzzi utilizes installers local to you. Jacuzzi will connect you to contractors in your geographic area to complete the installation process.
Once you know the company name behind the installation, it will be worth investigating that company on your own.
If any customers have had bad experiences and report them online, it can save you some trouble. A poor walk-in tub installation can be a nightmare, so you should scrutinize whoever has been approved to install your tub.
Can I get questions answered about a Jacuzzi Walk-in Tub?
Jacuzzi sells walk-in tubs nationwide. They even have showrooms in a number of US cities. Since Jacuzzi is the manufacturer, they'll be able to answer any questions you have about the tubs themselves.