A portable walk-in tub takes the main features of a walk-in tub—a side door and a seat—and adds wheels. This portable feature brings new capabilities to a traditional walk-in tub.
It creates a tub that can go and do things no other tub can. It's such a unique tub that only a few manufacturers carry portable walk-in tubs.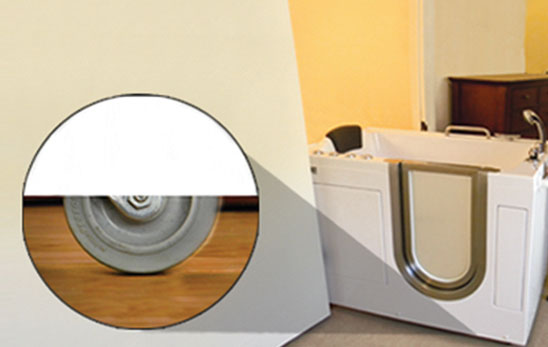 What's is Portable Walk-in Tub and Benefits of Owning Portable Walk-in Tub
Owning a portable walk-in tub can be a game-changer. Portable walk-in tubs are designed to help bathers access a comfortable, enjoyable spa-like experience from anywhere in their home. Unlike any other tub on the market, a portable tub can be taken with you if you move. This means that all the money put toward the tub will not be lost if you have to change your living circumstances.
Portable walk-in tubs remove one of the largest headaches of buying a walk-in tub—installation. Without a costly, time-consuming installation, you're free to enjoy the tub from the minute it arrives.
Features of Portable Walk-in Tubs
Portable walk-in tubs contain similar features to traditional walk-in tubs with a few notable differences. The tubs come with wheels.
The safety features of a portable walk-in tub include all the familiar features of usual walk-in tubs. The tubs include non-slip surfaces on the flooring, a seat, grab bars to help users stead themselves, and strong door seals to prevent any leaks. The low door entry means that users don't have to worry when entering or exiting the tub.
One additional safety feature only found on portable walk-in tubs are locking wheels. These wheels are locked in place prior to filling the tub. The heavy-duty wheels ensure the weight of a full tub and occupant don't create problems. Once locked, the tubs become as steady as traditional, wall-mounted ones.
Despite being engineered to be a mobile tub, a portable walk-in tub can typically hold up to 60 gallons of water. The amount matches and exceeds what typical tubs provide. It's an ideal amount to soak and enjoy.
Additionally, as a walk-in tub, water jets create a soothing, relaxing tub experience. A tub doesn't need to be mounted to a wall to generate calming bubbles. All that's needed is a power outlet and water.
Who might need a Portable Walk-in Tub?
Individuals interested in reducing the cost of a walk-in tub by a large margin should consider a portable walk-in tub.
The lack of installation means that the cost of a portable walk-in tub shrinks significantly. Walk-in tubs require major home remodeling, including adjusting power and water lines to accommodate the new tub. It's a serious project with a serious expense. A portable tub avoids this hassle.
Additionally, people with severe mobility issues may find a portable walk-in tub beneficial. A portable walk-in tub comes to the bather rather than the other way around. This means that individuals who might not otherwise reach the bathroom themselves, or only with great difficulty, can enjoy a pain-relieving spa bath.
How much does it Cost to Install a Portable Walk-in Tub?
The good news is that since there is no installation, there is little cost for installation. The 'cost' of a portable walk-in tub is the space it takes up. While portable walk-in tubs aren't enormous, the extra space is something to consider. It might not work in every room.
How can a tub get enough water in any room in the house? The answer is that a small hook up must be used or added. Portable walk-in tubs offer two different options to fill and drain the tub. Let's take a look at them.
The first is a faucet connection. A faucet connection allows the tub to connect to the hot and cold water of a faucet to draw water to fill the tub. It also allows the tub to drain
Secondly, some companies will install a connection box to your existing water systems. This small wall unit allows you to connect the tub to a specific wall connection to draw and drain water. It's a small amount of installation compared to traditional walk-in tubs.
Heavenly Walk-in Tubs have models that you can just roll your walk-in tub and have a bath, its so easy like it sounds.
What Extra Maintenance Issues do Portable Walk-in Tubs have?
Portable walk-in tubs require less maintenance than typical walk-in tubs. Portable walk-in tubs can be repaired for a much lower price, much quicker than typical walk-in tubs.
Besides ensuring that the tub has access to water and power to operate, a portable walk-in tub requires no more maintenance than typical walk-in tubs.