Menards is a home improvement store located in the Midwest and carries a vast range of Walk-in Tubs brands and models.
If you're looking for a walk-in tub and live in the Midwest, maybe this is why you think in buy a walk-in bathtub in Menards but first read this.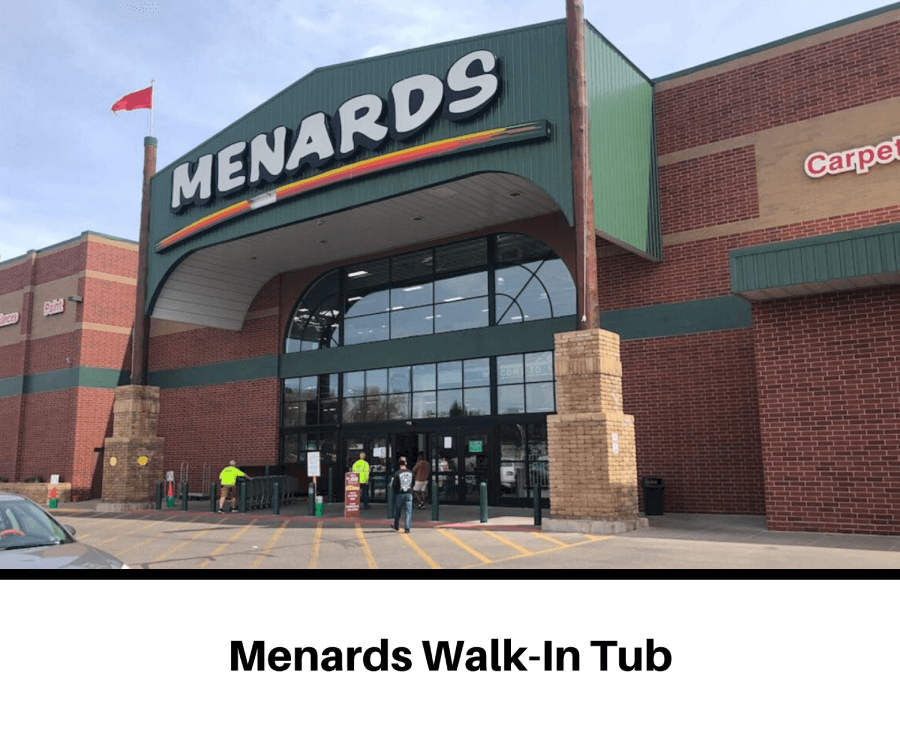 Features and Models
Menards carries nine different companies of walk-in tubs, including Homeward Bath, Hydro Massage Products, Mansfield, Meditub, Oasis Walk-in Bathtubs, and Safety Tubs.
Menards sells a total of 606 models across these brands, making them a giant in the walk-in tub sales industry. While not all of those makes and models will be available at their store locations, they can be found online and shipped to their stores or shipped curbside to your address. Menards sells hundreds of walk-in tubs every year.
An excellent walk-in tub can be a life-changing experience for some. It can extend how long an individual can live on their own by removing a home fall risk. Living on one's own is a massive boon to many individuals who are on the cusp of enduring the life change that comes with assisted living.
Walk-in tubs come with standard safety features such as grab bars, sturdy doors, non-slip flooring, and even anti-scald features in some models.
If safety is a primary concern for you or the person who will be using the tub, be sure to seek a make and model that puts in extra measures of protection that includes ADA (Americans with Disabilities Act) compliant features.
Beyond a safe experience, a walk-in tub should be about comfort. With hundreds of models to choose from, finding one that maximizes comfort isn't hard. Water jets and air jets make for a comfy bath. Walk-in tub manufacturers offer tubs with varying numbers and locations of jets. Some tubs offer aromatherapy, colored lighting, speakers, heated seats, and fast drain systems—the amenities are endless.
Additional choices for Menards Walk-in Tubs include acrylic or gel-coated fiberglass, left-handed or right-handed doors, white color or beige color, water jets or air jets, tub depth, and tub height. Look around and see what makes and models look attractive to you. Such a vast selection means more work on your part, but also better deals and options to choose the right one.
How much does a Menards Walk-in Tub cost?
The prices range from $1,350 to $7,000 and everything in between.
The cheapest tubs are small and come with no jets. The most expensive tubs are the largest in size as well as containing all additional jets and amenities available.
What Warranties does Menards offer?
The Warranty for a Menard Walk-in Tub will vary by manufacturer. You will need to contact the manufacturer for more information. On nearly all the tubs the warranty will only cover the material components of the tub under normal wear and tear circumstances.
A manufacturer's warranty will not cover any problems that arise from a bad installation. Warranties range from 1 year in duration to a limited lifetime in some cases.
How long do Menards Walk-in Tubs take to fill up and drain?
The filling time for tubs will vary by company and your home plumbing situation. Typically, a walk-in tub takes 5-8 minutes to fill and the same amount of time to drain. Some tubs with fast fill or fast drain systems will take only 1-2 minutes.
How many jets does a Menards Walk-in Tub come with?
The number of jets on a tub purchased from Menards will vary by brand. A tub can come with as few as 0 jets and as many as 30 or more jets.
With 606 different models available through Menard's website, any number of jets are available. It's a matter of searching through the walk-in tubs to find a brand and model you enjoy.
Do I need to hire a plumber to install a walk-in tub from Menards?
Yes. Menards will ship the tub to a store location for pick up or deliver the tub to your curbside. It will be up to a plumber you hire to take the tub into the house and install it. Many of the tubs purchased from Menards include an installation guide.
This guide includes technical electrical and plumbing information that a plumber would need to complete the installation. Be sure that the doors the tub will need to travel through are wide enough to fit the tub. Otherwise, the tub will cost even more as modifications to the door frames will be required. Also, don't be surprised if the tub manufacturer or the plumber encourages you to buy a larger water heater for your house. Walk-in tubs use more water than traditional tubs.
Installing a tub yourself is very involved and not recommended. The plumber will need to remove the existing tub and make any changes needed to the drywall and surrounding floor to accommodate the new tub and it's electrical components (if it has any). Menards will offer names and contact information for local plumbers capable of doing the installation, which is a great help if you don't know where to start.
Pros and Cons of Menards Walk-in Tubs
Pros
-Prices all upfront and not hidden behind a salesperson
-Nine manufacturers with 606 total walk-in models available
-Free shipping to home or nearby store
-Lots of affordable walk-in tubs to choose from
-Buying from a large chain with a long history
-Customer reviews available on their buying site
Cons
-Must make own installation plans
-Limited to the Midwest region of the US
-Menards cannot offer much help after the installation
-Some tubs do not include faucets
Before you buy check also the safe step walk-in tub price page that is of the best walk-in tub.
Can I get questions answered about Menards Walk-in Tubs before scheduling an in-home appointment?
Menards is a delivery and distribution company which means they do not do in-home appointments. Many of the companies that sell tubs through Menards will offer in-home appointments.
Many of the tub manufacturers themselves will need to be contacted if you want more information about specific tubs at Menards. Menards' personnel are not as familiar with the products and their requirements as the manufacturers.