When looking for the best walk-in bath, it's critical to understand how much your walk-in tub will cost in total, and for Kohler Walk-in Bath cost is determined by factors such as size, type, extra features, and installation.
Kohler is a major American manufacturer of home and bath goods. Kohler has been a trusted maker in bathing since 1873. You can find the Kohler prices down the page.
Kohler Walk-In Tubs: Takeaways
Did very well in our testing.
Are safe and comfy, which makes them perfect for older people's bathrooms.
Kohler walk-in tubs cost between $7,500 and $25,000, plus the installation price.
Their stellar reputation makes them worth looking at if you plan on shopping for any home goods they carry. Kohler is a brand trusted for comfort, quality, and beauty.

You can find Kohler products all over the US in hardware and home improvement stores and from Kohler distributors. If you still have doubts, the company ranks at number 51 on the Forbes 2018 list of America's largest private companies and has won various awards for its innovation, design, and environmental awareness.
Kohler was nominated as the most-used brand and the one with the best quality in the Bath Accessories, Bath Fixtures, and Whirlpool Baths categories.
Kohler is also innovating and trying to accompany their customers' needs with new technologies, more comfortable fixtures, or better designs. In 2018 the company presented its new product called Konnect which consists of smart plumbing fixtures that are connected to WIFI with a voice assistant control via the Kohler Konnect app.
So you can also trust that they are modern and won't disappoint with any of the products these products.
What is also great about Kohler is that their products are accessible to everyone, The Kohler Walk-In Bath Division specializes in building bathtubs that are easier to enter than the traditional ones being particularly suitable to senior citizens or people with limited mobility – And what are the perks of the Walk-in Tub.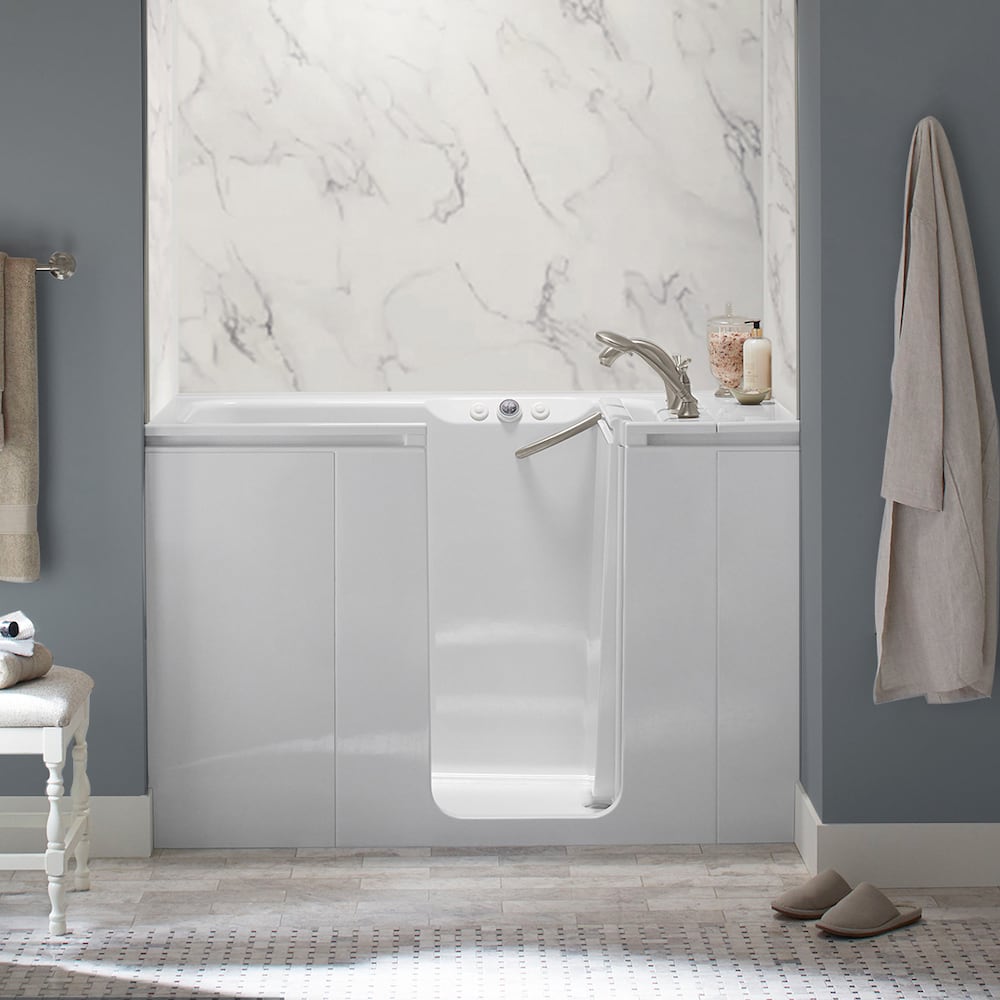 How Much Does a Kohler Walk-In Bath Cost
The average cost of a Kohler walk-in tub is between $7,500 to $25,000 for a premium tub, plus installation cost.
The price of installing a Kohler tub depends on the tub size, design features, and bathroom layout. You can't find the price online of tubs because they work with consultation quotes.
Kohler can be one of the pricier tubs on the market due to the quality of materials and upgrades available.
They regularly offer discounts and promotions. When contacting them to learn more they will make you aware of what promotions are ongoing.
The expected cost included here does not include the extra cost needed to purchase and install a larger hot water heater. Many walk-in tubs utilize a hot water heater larger than the existing one in your house. Walk-in tubs can hold 60 gallons while average home water heaters hold 40-50 gallons.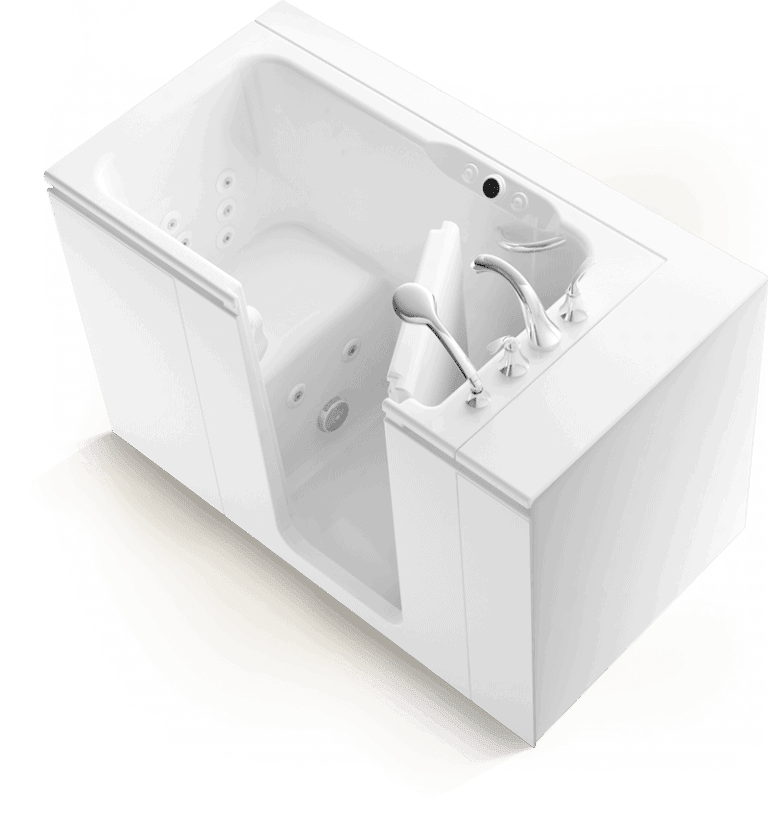 Kohler Walk-In Tub Price For Each Model
| Tub Type | Walk-in Tub Price – Tub Only | Accessories & Features |
| --- | --- | --- |
| Basic Walk-In Baths | $7,500 – $25,000 | Soaking walk-in tub without additional features |
| Hydromassage Walk-In Tubs | $5,000 – $10,000 | Whirlpool jets, Air jets, Combination hydrotherapy, and air jets |
| Specialty Walk-In Baths | $2,500 – $15,000 | Combination walk-in tub and shower, Two seats, Wheelchair accessible, Slide-in access |
| Premium Walk-In Tubs | $20,000 – $25,000 | Walk-in tub that comes standard with advanced features like heated backrest, adjustable jets, and hand shower, Oversized walk-in tub with or without advanced feature options |
Basic – $7,500 – $5,000
This is Kohler's most affordable walk-in tub. It still has a low threshold, an opening door, and a built-in seat to sit on while bathing.
Hydromassage – $5,000 – $10,000
These tubs include a whirlpool and air jets, which raises the price slightly.
Specialty – $2,500 – $15,000
This tub level includes features such as a showerhead and additional seating.
Premium: – $20,000 – $25,000
A wider seat, hand shower, heated seat, aromatherapy system, and other features may be included with Kohler's premium walk-in tubs.
| Expense | Cost |
| --- | --- |
| Walk-in Tub | $7,500 – $25,000 |
| Extra Features | $1,000 – $5,000 |
| Install | $2,500 – $6,000 |
| TOTAL | $7,500 – $25,000+ |
Kohler Walk-in Tub Installation Cost
Kohler walk-in tub installation costs between $2,500 and $8,000 on average, depending on the job's complexity. If you need to reconfigure plumbing, install an electrical motor, or renovate your bathroom to accommodate a large tub, you will incur additional labor costs. You receive from them a complete quote with all the prices and costs for everything that you going to need to have a new walk-in tub at your home.
Pros and Cons of Kohler
Pros
3-inch threshold among the lowest from a walk-in tub
LuxStone backsplash with multiple designs
Two colors—white or biscuit
Complete hydrotherapy package available
One day installation
Kohler offers free in-home consultations and quotes.
Lifetime warranty
Comfort features
Fast drain
Grab bars
Cons
One tub size—including single seat size
No aromatherapy options
Kohler Frequently Asked Questions
Are Kohler Walk-in Tubs Covered by Insurance?
Private insurance providers and Medicare generally do not cover the cost of a walk-in tub. This can be a challenge for some individuals who want to upgrade their bathroom with a walk-in tub, which can provide numerous health benefits, such as improved mobility and safety.
Fortunately, Kohler offers financing options that can help you pay for your new Kohler walk-in bath or Kohler walk-in bath and shower combination. These options include 0% interest for a year, which can make the cost of a walk-in tub much more manageable.
Features of Kohler Walk-in Tub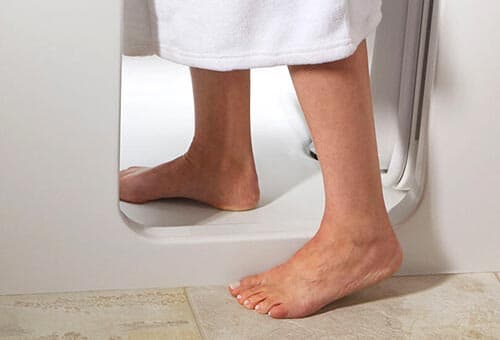 The 3 inch step is the lowest of any tub on the market;
The hand shower has three soothing spray settings;
The hydrotherapy jets and adjustable bubble massage air jets stimulate the release of muscle tension;
It has one of the fastest drains and fill times available, offering convenience and time savings;
The recline is heated during and after your bath;
Easy to get in and get out of your seat securely;
Another great thing is that you can personalize your tub when purchasing it.
You can choose the color, texture, and safety features of the bath walls and the faucet finishes. This way it will fit your bathroom decor.
Quick Tip: Kohler Walk-in Bath regularly offers deals that can save you $1,000 or more in your walk-in tub.
Types of Kohler Walk-in Tubs Available
Unlike other walk-in tub manufacturers, Kohler sells only one size. The tub dimensions are meant to fit seamlessly into the existing tub space of your home. The edges surrounding the walk-in tub will be shortened or extended to fit into an existing space, but all their tub shells have the same interior.
The single tub size comes with your choice of possible upgrades. The base walk-in tub is a plain soaking. There are no additional jets in the base tub.
A hydrotherapy jet tub is an upgraded walk-in tub that includes ten water jets and a control panel to adjust the jets. The hydrotherapy jets upgrade is perfect for anyone wanting to maximize their time in the tub as a relaxing experience. The tub also comes with a heated seat as icing on the cake.
In addition to the tub, Kohler offers several choices of backsplash to decorate the area directly above and behind the tub. Since the old tub will be removed, it's a perfect time to include a backsplash that matches the elegant new walk-in tub. The strong materials and beautiful appearance of their backsplashes are not to be overlooked.
Safety is an important part of any walk-in tub setup. Kohler understands this.
They've included an ergonomic grab bar in the tub to aid sitting and rising. Kohler offers a walk-in tub with an extra-wide door to allow ease of entry for large persons or bariatric patients.
The threshold is only three inches tall—one of the lowest among walk-in tubs in the industry.
The multifunctional showerhead limits body movement as the wand can be moved above a bather rather than needing a bather to move to the faucet head.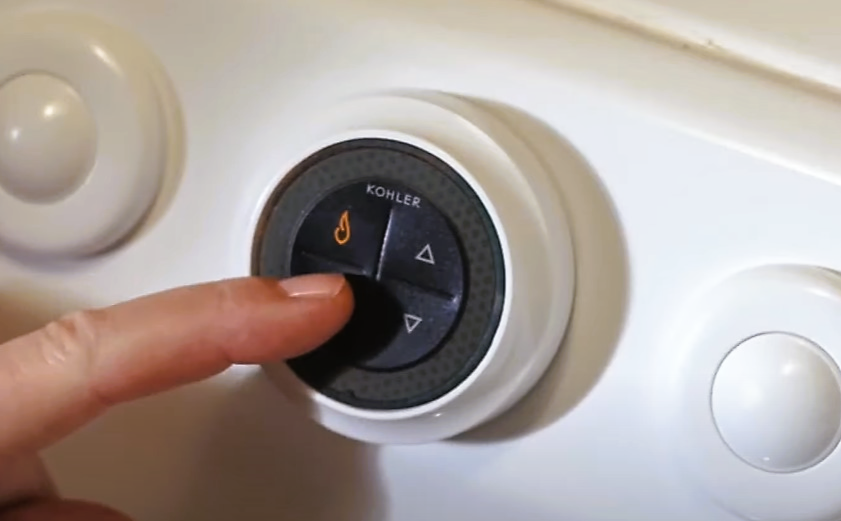 Warranties on a Kohler Walk-in Tub
Kohler offers a warranty that covers manufacturing defects on all bath components. This includes the door seal, hydrotherapy systems, and faucets. This warranty covers normal residential use.
Kohler Walk-in Tub Time to Fill Up and Drain
The time a Kohler Walk-in Tub takes to fill and drain depends, in part, on the plumbing in your house.
However, Kohler has recently upgraded their tubs to include a rapid drain technology.
This technology uses the whirlpool pumps to pump water out of the tub rapidly, reducing the drain time significantly.
Expect a 5-8 minute fill time and similar drain time. If the rapid drain is used, the tub can drain in 1-2 minutes.
Kohler Walk-in Tub Jets
A Kohler Walk-in Tub with Hydrotherapy Upgrade comes with 10 whirlpool jets.
Why Buy Kohler Walk-in Tub
Kohler is a very trusted brand has been in the market for 140 years and all the products are designed and assembled in America – that's one reason to provide peace of mind when purchasing your tub.
Kohler being a company that accompanies their customers' needs, knows that retirees choose to live in their homes longer than before and those bathroom fall injuries become more common and that's why the safety features of a Kohler walk-in bath can help maintain independence.
Kohler is a company that deserves your trust and if you are in need of a tub to fit your needs, remember that the walk-in tub by Kohler has everything and more to fulfill it.