Veterans who have served our country have always been important to your country. Those of you who served in the military need to know all about the benefits they have. We can help you learn how to use your VA benefits to make your home more comfortable, and a walk-in tub can be a great addition to making your life a lot better. Let's talk about what you can do:
Does the VA Pay for Walk-In Tubs?
US Department of Veterans Affairs offers some grants and aids for financial assistance, and that can be used for the purchase and installation of the walk-in tub.
The Veteran Affairs offers three different house modification grants for disabled veterans: they are SAH-Specially Adapted Housing, SHA-Special Home Adaptation, and HISA-Home improvements and structural alterations.
These grants provide assistance that can be used for the purchase and installation of a walk-in tub and the HISA grant it's the one that probably will help with the purchase and installation because it helps veterans with disabilities connected to military service.
Pricing & Installation Info
See pricing

Veterans with conditions not connected to military service and aging veterans too and it covers home improvement and modifications that are seen as important for a better quality of life.
When applying the veteran still needs to provide a VA doctor's prescription with a diagnosis and a justification for the purchase of a walk-in tub and a written estimate of the costs of the walk-in tub and its installation.
The VA reviews all the applications for the HISA grant and decides if it is eligible and how much will the grant be. If the veteran is approved for the improvement or modification project the grant goes directly to them, not the vendor.
Some approved HISA grants were: wheelchair ramps, lift devices, plumbing updates, central heating and cooling, hardwood floors, tub-to-shower conversion, widened doorways, fences for service dogs, and improvements to previous HISA approved projects.
Some unapproved projects were: the construction of a new home, exterior decks, elevators, home security systems, and routine maintenance.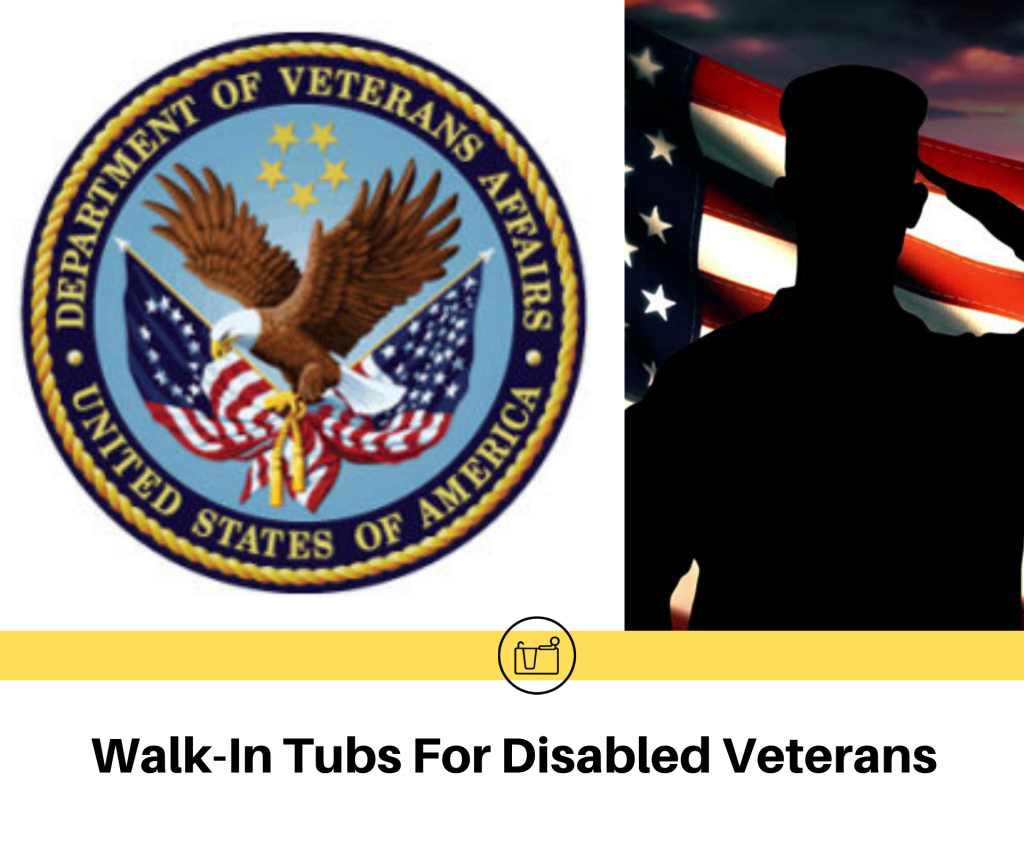 Then there's the VD-HCBS program – Veterans Directed Home and Community Based Services – which it's modeled after the Medicaid one, which means that it's given a budget and some flexibility. You spend it on your necessities as you see fit, so you can choose how to spend.
There are also pension aids for veterans or surviving spouses who have permanent disabilities and are housebound or in need of daily help with basic activities.
These aids have some limitations, but they can be used as long as it is for the care of the beneficiary, so if the beneficiary is in need of a walk-in tub to easy their life it can be used for its purchase and installation.
It can also be a reimbursed medical expense, i.e. it can be deducted from an income and after given an increased pension benefit to cover the cost of the tub.
What Are the Requirements for a VA-Approved Walk-In Tub?
The following conditions must be met by VA-approved walk-in baths, according to the Veterans Benefits Administration:
Grab bars that can hold up to 250 pounds or more
Faucets that can be accessed when in a wheelchair
A transfer platform that is at least 18 inches long and the width of the tub.
Unobstructed space of at least four feet alongside the tub
What Are a Veterans Specially Adapted Housing (SAH) Grant?
A SAH Grant for Veterans gives financial support to assist you in modifying your house to meet your health requirements. If you own or will own a house and your qualifying disability is service-connected, you are qualified to apply for the VA SAH award as a veteran. For the fiscal year 2022, the maximum amount is $101,754. Although only 120 veterans are eligible for the SAH award each fiscal year, you may reapply if you do not get it.
What Is a Veterans' Special Home Adaptation (SHA) Grant?
A SHA Grant for veterans may also assist you in adapting your house to accommodate impairments and make it more pleasant. To be eligible for the SHA grant, you or a family member must own a house now or in the near future. You must also have a service-connected disability.
For the fiscal year 2022, the maximum award amount is $20,387. It should be noted that if you qualify for a SAH or SHA grant, you are not required to utilize the whole amount during the fiscal year. The rest of your grant may be used at a later date.
What is the Veterans Home Improvement and Structural Alterations (HISA) Grant?
The HISA award assists veterans in funding any medical or structural improvements required to address eligible impairments. Walk-in tubs for veterans, for example, are acceptable under HISA awards since the extra-wide door allows them more space to access and depart the tub. This is particularly beneficial for disabled veterans who want to better their living conditions.
HISA grants of up to $6,800 are available for service-connected situations or non-service conditions that are 50% or more service-connected. If you have a non-service-related ailment, you may still apply for grant funding of up to $2,000 per year.
Walk-in tubs are rarely qualified as durable medical equipment and that's why most insurance options won't cover it, but the VA is aware that it is needed equipment to have control in life free from a caregiver.
It's convenient for seniors and veterans to have a safe and comfortable domestic space with easy-to-reach utilities. But if you are special needs for a larger tub, we recommend you see this post.
The walk-in tub helps with that feeling of independence; with it, there's no need for someone to help with the daily routine that is bathing.
If you are a veteran in need of a walk-in tub or care for one, reach for one of these aids and gain/give quality and independence, or if you have Medicare or Medicaid see how you can get from them.
The Walk-in tub helps people with some independence when it comes to this part of the day being safe and comfortable.
Aging and disabled veterans or their spouses sometimes need some specialized and durable home medical equipment such as a walk-in tub to help with some at-home commodities and safety, but they may not be affordable.