Walk-in tub combinations with showers are the best option for safety and comfort while saving space in your bathroom.
They provide your family with more flexibility, which is particularly beneficial if you have elders or folks with varying degrees of need.
This is the best option for those with some kind of mobility problem; elders or someone who just finds it a little difficult to step in into a regular tub but wants to take a regular shower.
All walk-in tubs have a door that opens and closes, located on the side, or in front of the tube.
It makes the entering process very easy because you don´t have to lift your leg over the threshold, as with traditional bathtubs.
What Is a Walk-In Tub With Shower Combo?
A walk-in tub and shower combination is a bathtub equipped with a door with windows or curtains, which makes the entering process easier and safer for those with some kind of mobility limitation or people who have a hard time getting into the tub.
All you need to do is open the door, get in, and close it. Once the door is closed, you can turn on the shower and let the water flow.
Just make sure the door is correctly closed. The water won´t flood the floor thanks to the sealing mechanism on its doors.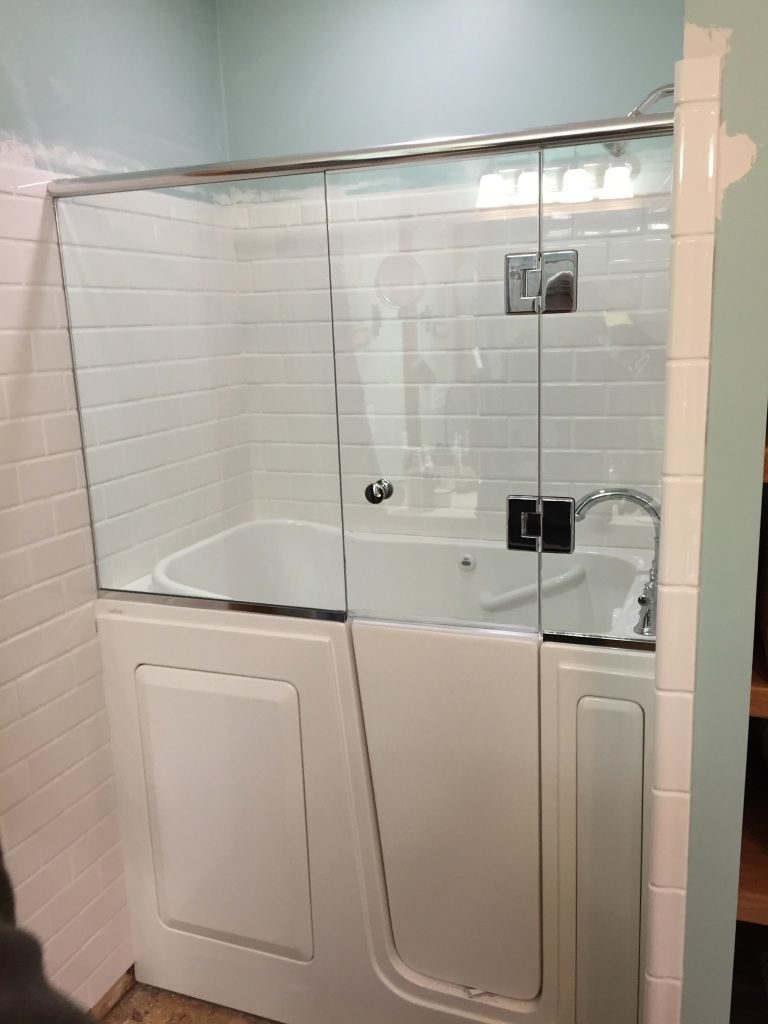 Kohler
Pros
Adjustable according to your requirements
Appealing designs that complement your home
Equipped with a bath screen enclosure
Quality
Cons
Kohler provides a shower package that you can add to a Kohler walk-in tub.
This transforms your current bathroom into a safer and more accessible space, featuring a wall-mounted showerhead and a partial bath screen.
Kohler designs its walk-in tubs to suit your style and needs, offering sleek ADA-compliant designs, a lifetime limited warranty, and one of the lowest entry steps, just 3 inches high.
Because of these features, we've chosen Kohler as our "Editor's Pick."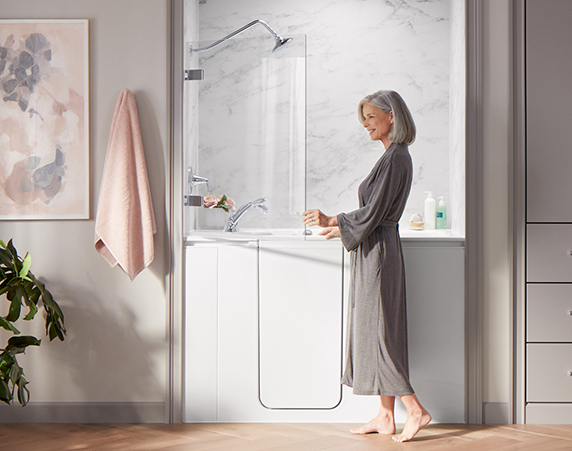 Kohler Shower package
The shower package incorporates a wall-mounted overhead shower, providing standing shower options.
You can pick between standard or extended shower arms and three different showerhead shapes.
Kohler also provides a bath screen, protecting your bathroom floor from splashes.
For an extra fee, you can get Kohler LuxStone bath walls to safeguard your existing bathroom walls with a surface that's easy to clean and matches your bathroom.
The Kohler shower package stands out from other brands by providing a comprehensive shower experience in one personalized quote.
It's one of the few brands offering a wall-mounted shower design and optional enclosures to keep your bathroom dry, features usually not included in other walk-in tub and shower combos.
Standard and optional features The shower package enhances Kohler's basic walk-in tub, equipped with water and air jets, and heated surfaces targeting key areas like your back and legs.
It includes safety handrails and a hand-held showerhead for seated showering. You can select between brushed nickel or polished chrome fixtures to match your bathroom decor. Plus, fast filling and draining features reduce your waiting time.
Installation
For a quote, you need to contact a certified Kohler dealer to arrange an in-home consultation.
The consultant will conduct a 35-point inspection of your bathroom to calculate the cost of the tub and its installation.
If you're satisfied with the quote and installation plan, you can proceed with the purchase and discuss financing options.
Pricing
The total cost can range from $2,500 to $8,000 or more, depending on the tub and installation costs.
However, if your bathroom needs significant modifications, the price could exceed $15,000, which would be determined during the consultation.
Despite its high costs, Kohler's exceptional warranty, comprehensive package, and personalization options led us to maintain it as our "Editor's Pick."
Warranty
Kohler provides a lifetime limited warranty covering the entire bath as long as you own your home, provided a certified Kohler professional installs it.
The warranty includes all manufacturing defects.
Payment options
Payment methods differ among Kohler dealers, but most accept major credit cards and checks. You can also opt for financing through GreenSky, Kohler's third-party financing partner.
During your appointment, you can discuss your options, apply online, and set up a payment portal if you qualify. However, GreenSky's interest rates could be up to 24%, depending on your credit score.
Despite being one of the pricier options, the Kohler shower package, with its range of customizations, low entry step, and the capability to add a shower to an existing walk-in tub, offers valuable and comprehensive benefits for those seeking to future-proof their home.
Safe Step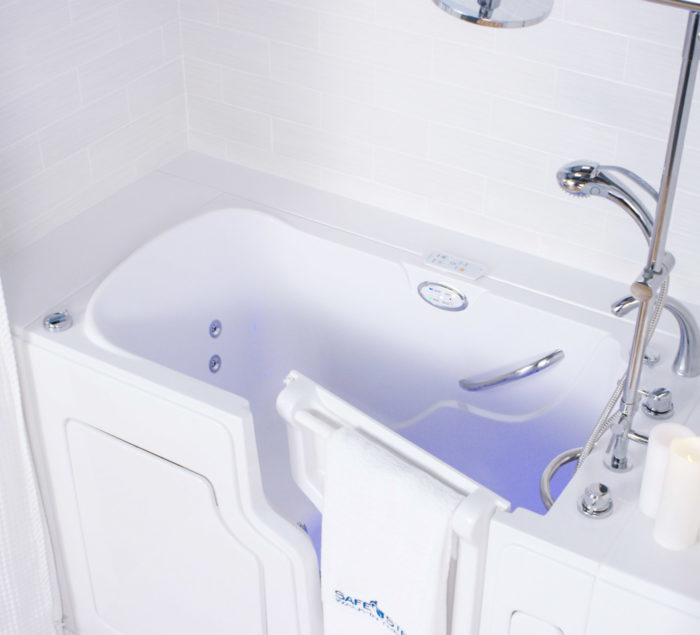 Safe Step claims our "Most Features" title because it provides the most extensive array of safety and therapeutic additions to your bath, including anti-scald technology.
This feature regulates bath water temperature, preventing burns from excessively hot water, typically maintaining it below 120 degrees Fahrenheit.
To guard against infection, there's an optional ozone water purification system for jetted tubs, designed to clean the water passing through the jets, eliminating harmful bacteria and mold that might proliferate in the plumbing.
Shower Functionality
During the in-home visit, the Safe Step representative will assess your bathroom and inquire about your desired features. If you wish to add a standing shower, ensure to mention this, guaranteeing your installation will come with a shower column that features a rain showerhead. This attaches near the faucet on your tub's deck and is secured with wall supports.
Standard and Extra Features
Safe Step maybe your top pick if you're seeking convenience features. Standard features consist of a "no-strength" locking handle and two grab bars per tub to assure safety during entry and exit.
You can enjoy the hand-held shower wand and modifiable therapeutic jets, managed via a tub-mounted control pad or a floating, waterproof remote control.
Additional features encompass a personal hygiene bidet, the MicroSoothe® Air Therapy System, LED lights for chromotherapy relaxation effects, and aromatherapy to create a serene bathing atmosphere.
Chromotherapy employs wavelengths of varied colored lights to aid healing, mood regulation, and relaxation, as per research.
Aromatherapy, often used in alternative medicine, utilizes smells, predominantly from essential oils, to stabilize mood and treat stress, anxiety, and insomnia.
Despite its benefits, essential oils can be potentially toxic if mismanaged, as research warns. To prevent skin irritation from undiluted oils, the National Capital Poison Center recommends proper dilution before adding them to bath water.
Acknowledging this, Safe Step offers an optional canister with an aromatherapy feature, ensuring the safe dilution of oils into the bath water.
Pricing
The typical price range for a Safe Step walk-in tub falls between $2,500 and $11,000. Adding the installation cost, which can range from $2,500 to $5,000, the total price varies significantly.
Please note that these are approximate costs, and you can obtain a complimentary, personalized quote for a more accurate estimate.
Boca Walk-in Tubs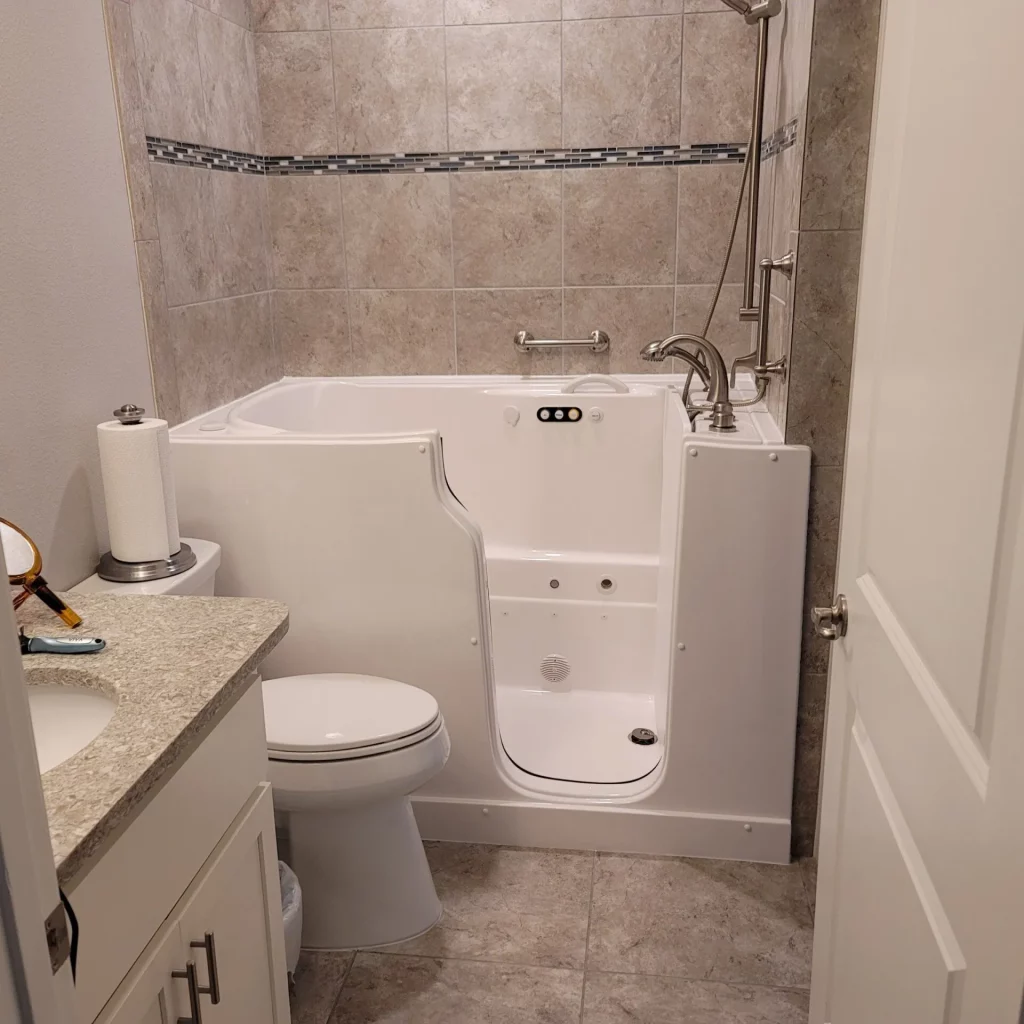 Price Range: $8,000–$14,000 (excluding installation)
Free Quote: Available, can be requested via phone or online form
Tub Type: Options include Soaker or Jetted (with either water or air jets)
Dimensions:
Tub: 51–62″ L x 30–32″ W x 36–40″ H
Seat: 18″ H x 25–27″ W
Threshold/Step-In Height: 2″

Door Style: Inward Swinging
Water Capacity: Approximately 80 gallons when unoccupied
ADA-Compliant: Yes
Distinguished Features: Hand-held shower, grab bar, slip-resistant floors, seat, and head pillows, and a fast fill and drain system; additional optional features include a heated backrest, Warm & Safe scald protection, bidet, water and air jets, microbubble system, LED lights, Vibe music system, ozonator sanitation system, aromatherapy capsule, bath walls, and a shower column
Warranty: Comes with a limited lifetime warranty
Boca Walk-In Tubs takes the lead with the widest variety of large walk-in tub options: deep, wide, wide-and-deep, as well as two-seater options. Although they may not be the absolute largest in the industry, these are the biggest tubs providing the most therapeutic features that can cater to a wide array of body types and needs. This versatility earns them our Reviews Team's selection for "Best Large Tub Options."
Each of Boca's walk-in tubs can be enhanced with a shower column add-on, alongside many other features that compete closely with those provided by Safe Step, our "Most Features" pick. Boca stands out in the industry with an exceptionally low threshold of just 2 inches, a significant feature for those aiming to minimize bathroom tripping hazards.
Adjustable-height showerhead and enclosure
Boca made its mark in this review by providing a shower column with large tubs. This chrome shower column is an optional add-on that comes with a rain showerhead, adjustable height, and a sliding handle on the column to hold the hand-held shower included with the standard walk-in tub.
The shower column is mounted on the tub's deck near the faucet and supported by wall brackets for a secure fit. Boca also provides bath walls to shield your existing bathroom walls if you're designing a new space for your tub. However, the company doesn't provide any enclosures, meaning you'd need to buy and install a curtain and rod from a home improvement store.
If you're seeking a roomy tub that helps alleviate daily discomforts, Boca offers a few therapeutic extras, such as chromotherapy and aromatherapy.
Its Vibe music system, while not specifically labeled as therapeutic, can promote physical and mental well-being through pain and stress management, as stated by the American Music Therapy Association.
Ella´s Bubbles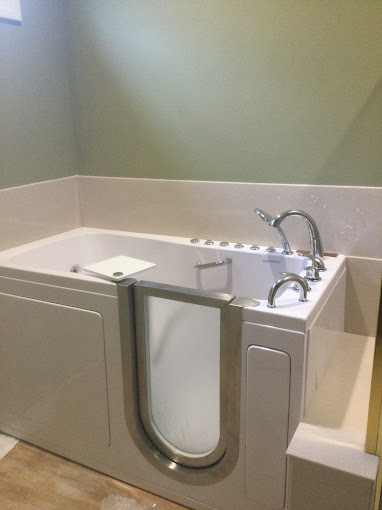 Pros
Flexible design catering to various tub styles
Availability of wheelchair-friendly options
More cost-effective compared to other walk-in tub alternatives
Cons
Shower columns cannot be fitted to lie-in tubs
Lack of options for bath wall designs
Ella's Bubbles is our top pick for affordable walk-in tub-shower combos. While not all their tubs are the cheapest, they offer basic tubs starting at $3,888 and you can add a shower for $460.
Some cheaper tubs are available, but they usually don't have showers.
Ella's Bubbles also offers wheelchair-friendly tubs with an easy-to-use door and a low step-in height, starting at $4,673. If you add a shower, the total is $5,133.
You can find good deals in their clearance section too, like large tubs for less than $8,000.
Ella's Bubbles rain showerhead
Ella's Bubbles provides the flexibility to transform your walk-in tub into a combined tub-shower unit by offering an add-on feature: an oversized stainless-steel rain shower column, priced at $460. This adjustable shower column can extend up to 7 feet in height and features a pivoting showerhead that can aim water either towards the seating area or the standing region.
To ensure the rest of your bathroom stays dry, you have the option to include a folding shower screen enclosure for an additional $450. Alternatively, for a more economical solution, you can source and install a rod and curtain from your local home improvement store.
Pricing and Installation
Ella's Bubbles does not display its pricing publicly on its website. However, you can request a personalized quote.
For installation, you're given the liberty to engage your preferred installer or you can opt for the company's own installation services.
Recently, Ella's Bubbles has started to provide installation solutions through Angi, a nationwide network of third-party contractors.
The Pros and Cons of Walk-In Tubs With Showers
Having a luxury walk-in tub shower combination package is so safe and practical option for those who want to feel free from accidents or for those with mobility problems.
You can step in the tub, turn on the shower, and relax and clean yourself the way it better suits you.
The walk-in tubs have space for you to sit, and with the rain shower, you can just sit and shower at the same time. Here´s a list of more advantages considering the walk-in tubs with shower:
For older adults. Some people can´t bathe appropriately because of some health or movement problem. But with a walk-in tub with a shower, the process is simple and easy, there´s no need for someone else to help. The person can sit, and turn on the shower, and that´s it.
No slipping. Because of handrails, seats, and texture pads, users will keep their heads above water.
No sliding shower door. Sliding shower doors are not safe, because they were not designed to support a person´s weight.
You will enjoy showering sitting comfortably in your tub; enjoying make settings and functions like massage and others.
How Much Does Walk-in Tub Shower Combination Cost?
The average cost for a walk-in tub shower combination came between $2000,00 to $9000,00.
They are more expensive than regular bathtubs, depending on if you need a window door or a shower curtain, the main price is different. You have to consider all their facilities and settings to justify the price.
The tub installation requires professional help, but, if you can´t hire someone to do that for you, you show to buy a portable walk-in tub model.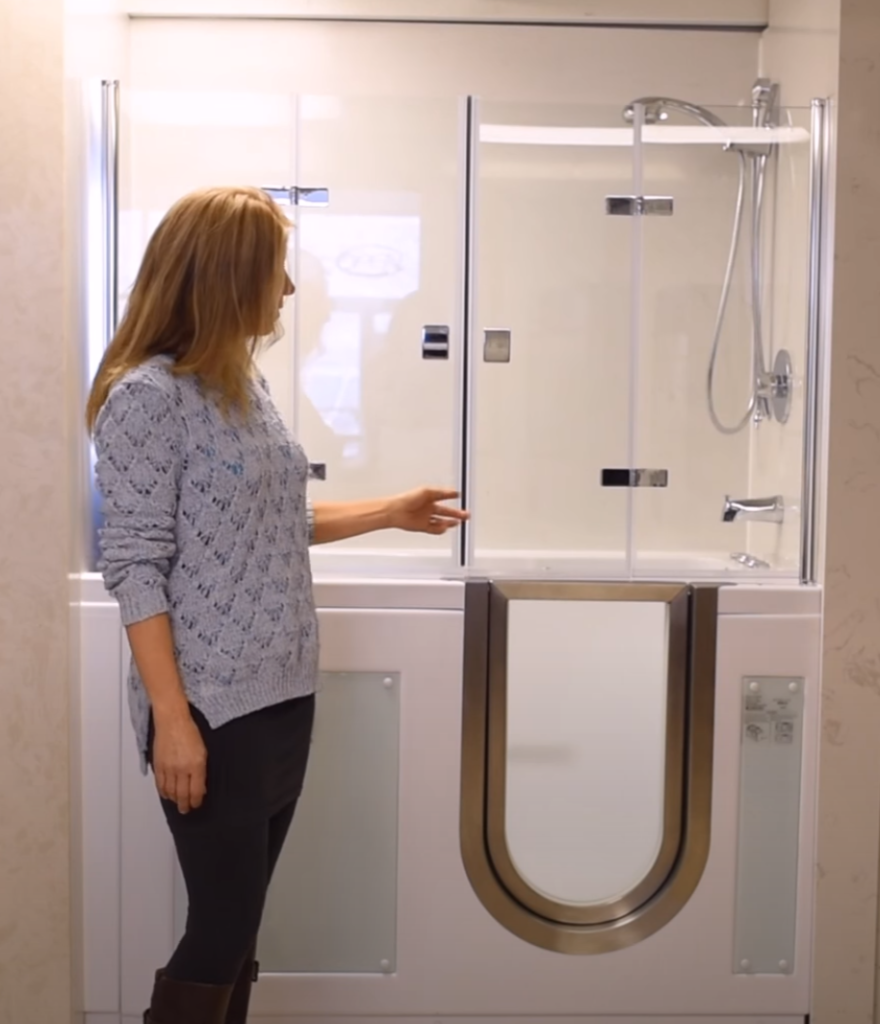 Features to Consider When Shopping for a Walk-In Tub With Shower
First of all, you need to think about what you need and expect from a walk-in tub shower combo package. As we have mentioned before, some of them are simple, and some of them come with a lot of settings and options.
Some of them have, for example, combo massage, or luxurious Air Spa.
You also have to consider the size of the luxurious walk-in tubs want to buy. There are available on the market, tubs 28 inches by 48 inches, or 32 inches by 60 inches. So, the price also varies according to its size.
Portable models hook up to an existing faucet but don´t require installation.
If you have someone in a wheelchair who will use the walk-in tub, you need to consider buying a model with wider doors and lower seats; the ones adjustable for wheelchairs.
Think about the special features you would like to have in your walk-in tub; the water pressure and air jets in different positions; back massages, legs, and feet. It's going to feel like a great bath experience like a real spa.
Why you can trust us
You can rely on our expert review because our Medical / Reviews Team has meticulously researched brands within the walk-in tub industry to identify the ones offering the best products and services for our readers' requirements. Our selection process included:
Conducting independent and continuous research
Performing mystery shopping with 12 brands and talking with three dealers
Consulting with occupational and physical therapists
Reading verified customer reviews from trustworthy sources like the Better Business Bureau (BBB) and Trustpilot.
To ensure that each brand and model we selected meet our readers' requirements, all our choices were subject to a medical review by an expert in the field.